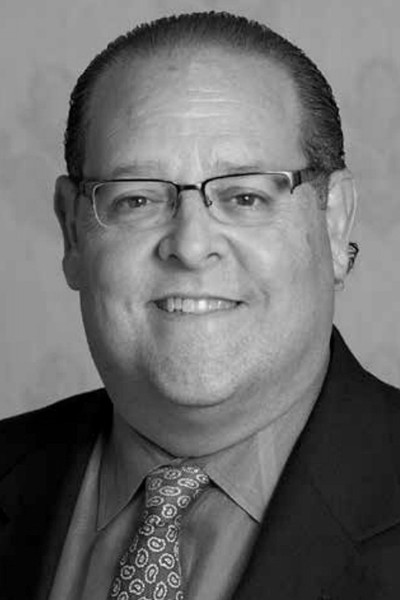 I am happy to dedicate my time to the ACOI as a member of the Board of Directors because I believe ACOI best represents my practice and benefits my patients. My professional and personal goals align most closely with the College. I took on the role of Development Committee Chair because I believe, as we transition from a GME to CME organization, it is very important that the ACOI become stronger for the next generation of internists. Young internists should understand the need for funding the College's mission and values which benefits all our members' practices and, most importantly, their patients. I see the Development Committee helping to get those messages out to long-time and new ACOI members.
I chose to make a major gift to the 75th Anniversary Campaign because of my deep belief and involvement in ACOI. I would say that the College is the best steward of the funds we contribute. We all contribute to other institutions and organizations but there is no doubt in my mind that ACOI uses our contributions to fund current and future initiatives that will benefit our family of osteopathic internists. That's why I appeal to our members to join me in supporting the ACOI today.
Robert L. DiGiovanni, DO, FACOI, ACOI Board Member and Chair, ACOI Development Committee
Your Support Makes a Difference
Through Your Support, ACOI will be able to:
Help preserve a distinctive osteopathic practice of internal medicine for the future
Utilize latest technologies to provide high-quality, easily accessible, and inexpensive CME offerings for our members
Assist all of our programs to achieve ACGME accreditation and encourage and assist them to maintain their osteopathic focus
Integrate osteopathic principles and practices into the ACOI's educational programs, products and services
Expand the Visiting Professor Program to expose every osteopathic student to successful DO internist role models
Increase the amount of support available for students to attend the annual convention and scientific sessions so they can experience our premier meeting firsthand
 
ACOI Sustainers Club
Become a member of the new ACOI Sustainers Club
Help the College Better Plan for Its Future!
Sustainer Club Members are monthly donors who:
give by credit card
arrange a monthly debit from a bank account, or
send a check
Benefits of being a Sustainer Club member include:
Invitations to donor events at ACOI meetings
Special update communications from ACOI leaders twice a year
Special recognition as Sustainers Club members in ACOI publications and the website
Remember, your gift is tax-deductible to the full extent allowed by law. Sign Up Today by clicking this link.
The ACOI's Sustainers Club is growing!
The College is pleased to welcome and recognize the following members of our new Sustainers Club:
Lee Peter Bee, DO, FACOI
Robert A. Cain, DO, FACOI
Janet Cheek, DO, FACOI
David J. Mohlman, DO, FACOI
Jeffrey Packer, DO, FACOI
Laura Rosch, DO, FACOI
Christine and Nathan Samsa, DOs, FACOIs
Samuel Snyder, DO, FACOI
As an osteopathic internist and ACOI leader, commitment to our organization is important.  The ACOI needs a strong infrastructure financially to be able to support its mission.  I am passionate about being an Osteopathic Internist, therefore, it is natural and credible for me to support this organization with my time and finances. 
As for encouraging others to join me by providing additional financial support to ACOI, I would say with the changing landscape in medicine, it is good to have a reputable organization like the ACOI representing us in Washington, DC, offering excellent CME programs, and being there to assist with any needs of the practicing Osteopathic Internist.   The College truly serves as the guardian of the osteopathic internal medicine profession.
Laura Rosch, DO, FACOI
We feel it is important to support the ACOI so that the College has the resources to continue providing the programs and services that ACOI members need. We are fortunate that our current income allows us to join many ACOI members in giving back to the College. With the merger of ACGME and AOA, we want to maintain our osteopathic recognition, which we feel is highly dependent on the support of ACOI members. As for continuing our support on a monthly basis as new members of the Sustainers Club, we find this to be an easy way to continue contributing regularly. Key to new and continued support is for ACOI to show how gifts are making a difference.
Nathan Samsa, DO, FACOI and Christine Samsa, DO, FACOI
Financial Support of the ACOI is essential to ensure the continued progression of the College's mission "To advance Osteopathic Internal Medicine". With the rapid technological advances in Internal Medicine, our Osteopathic  heritage MUST be interfaced, as technology cannot treat our patients without human/osteopathic Input.
The ACOI is in an exceptional position to advance medical knowledge, professionalism, patient care, and physician excellence. Osteopathic Internists can serve this mission and our patients by involvement in the ACOI committee structure sharing knowledge, professionalism and service.
I have chosen to support the ACOI and the 75th Anniversary Campaign with a commitment of time and, of course, financial support. I hope others will recognize the need for involvement both financially and academically as medicine and science progress with rapid acceleration.
C. Clark Milton, DO, FACOI
Securing ACOI's Future through a Legacy Gift
The most popular way generous people help the American College of Osteopathic Internists is with an outright gift of cash or stock.  However, some find that they can also help by making a legacy gift which is a wise investment for securing the College's future. It enables ACOI to plan long-term for strategic activities such as developing new initiatives critical to osteopathic internal medicine, creating more educational and training programs, and expanding outreach programs. With a secure financial base, ACOI can be more innovative and creative in cultivating new frontiers and serving the needs of its members.
A legacy gift can even be designed to obtain current income and estate tax advantages. It can also provide income to you or your loved ones for life. Although many complex options are available, there are simple options easily created through estate planning vehicles.
A donor may never see his/her legacy gift bear fruit, but he/she will know that the legacy, along with his values and beliefs, will have an impact on future generations. Through legacy giving, ACOI's mission and vision are strengthened, regardless of the challenges that may lie ahead.
To recognize and honor ACOI leaders and members who include ACOI in their will or estate plans, the Legacy Society was created. These legacy donors are giving back to ACOI while at the same time helping to secure the College's future.
ACOI Legacy Society
ACOI Wishes to Thank and Recognize the Legacy Society's Charter Members
Dr. Jack and Jocelyn Bragg
Dr. John and Dr. Michelle Bulger
Dr. Mathew and Marbree Hardee
Dr. David and Rita Hitzeman
Dr. Robert and Donna Juhasz
Dr. Karen and Jim Nichols
Dr. Eugene and Elena Oliveri
Dr. Frederick and Amy Schaller
Types of Planned Gifts to Consider
Bequest
By naming the College in your will you can give general support or name a specific program or service you want to help. Most people provide a percentage of what's left after they have made provision for their family. A fixed dollar amount can be mentioned as well, but some find that a percentage is easier and doesn't need to be reviewed as time goes by.
For those who might be interested in including ACOI in their wills or estate plans, here is the official language to use:
"I give, devise, and bequeath to the American College of Osteopathic Internists, a tax-exempt organization, located at 11400 Rockville Pike, Suite 801, Rockville, Maryland 20852, the sum of $__________ or percentage of (cash, real or personal property herein described) to be used for the specific purpose of ________________ or general purpose of the American College of Osteopathic Internists at the discretion of its board of directors.
Charitable Gift Annuity
By establishing this special gift arrangement, often called the gift that gives back, donors receive a generous tax deduction and get money back for themselves or for themselves and one other (usually a spouse) at an attractive interest rate for their entire life. You can ask for a confidential personalized illustration of how this can work for you, particularly now with low-paying CDs and low interest rates. For younger ACOI members, establishing a deferred gift annuity can provide supplemental retirement funds in the future.
Retirement Plan Proceeds
By naming ACOI the recipient of retirement plan proceeds many can avoid negative estate tax consequences while helping others and providing heirs with other less-taxed assets. You can ask ACOI to see if this can reduce your estate tax liability.
Charitable Trusts
By establishing one of several different types of trusts with either fixed or variable payments, savvy ACOI donors dramatically reduce their estate taxes, avoid probate, shelter funds for themselves and their family and receive a generous tax deduction. Ask ACOI how and for a confidential personalized financial illustration that will be tailored to your unique situation or needs.
Real Estate, Homes or Vacation Property
By donating a house or property you no longer need, you will receive a generous tax deduction based on its full market value.  By keeping the right to live in your home for life or until you no longer need it, you can stay in it and receive a generous tax deduction. Ask ACOI to show you how this can work for you.
Life Insurance
Many people have insurance policies they no longer need. By making ACOI the owner and beneficiary, you will receive an immediate tax deduction and the joy of knowing that what once gave you and your family peace of mind will now help others. Ask ACOI how this can work for you.
Our staff and planned giving counsel are ready to provide confidential information on ways you can help yourself and your family, while making gifts that will go on to help ACOI and others. For more information or to schedule a consultation with our planned giving counsel, call Brian Donadio, FACOI, at 301-231-8877 or email him at bjd@ACOI.org with any questions you might have.
For more information on the various types of planned gifts, please contact Katie Allen (katie@acoi.org) to order copies of various gift planning pamphlets now available: Gifts of Securities; Your Will to Help; The Gift Annuity; Ideas for Retirement; A Special Beneficiary; Art of Gift Planning; When the Time Comes; Your IRA Legacy; Remarkable Unitrusts; Bequeath Your Values; Planning for Women.
Advancing Future Generations with a

Tradition of Excellence
Evidence mounts daily that the national demand for internists is growing. There is a strong need for highly-qualified primary care internists, hospitalists, and subspecialists. ACOI answers this need by reaching out to students who are not fully aware of the career opportunities in our specialty.
ACOI is committed to the future of a distinctive osteopathic practice of internal medicine and to strengthening and expanding our very successful generational advancement programs so that future generations can carry on our osteopathic traditions and practices.
In order to continue and grow programs for students, residents, and fellows, financial support is needed for ACOI's Generational Advancement Fund. Contributions will be used for the following programs:
Visiting Professor Program to osteopathic college campuses to educate students about internal medicine and our subspecialties
Resident Textbook Program that provides textbooks for residents and students
Grants to Student Internal Medicine Clubs to attend ACOI's Annual Convention
Mentor Program that matches practicing physicians with students
 
Your Gift to the Generational Advancement Fund
Makes a Difference
ACOI is committed to the future of a distinctive osteopathic practice of internal medicine and to strengthening and expanding our very successful generational advancement programs so that future generations can carry on our osteopathic traditions and practices. This commitment requires financial support over and above ACOI dues so we can continue to make a difference in providing high quality care to patients.
Our Visiting Professor Program in Action
ACOI sponsored 22 Visiting Professor lectures during the 2018-2019 academic year, thanks in part to contributions from ACOI members!
Our thanks to our Visiting Professors for making the time to speak and train medical students about internal osteopathic medicine. The students appreciate ACOI helping to arrange these sessions. PCOM's SOIMA President Jonathan Stewart says "Dr. Carron's presentation was engaging, educational, and entertaining. It was a real pleasure having her come and speak to us all."
Here are a few recent Visiting Professor sessions held:
Oksana Vasylivna Mayovska and Sanath Shetty, 2nd Year medical students at Rowan University School of Osteopathic Medicine in Stratford, New Jersey who currently serve as the Co-Presidents of the Student Osteopathic Internal Medicine Club.
"First, we want to thank the ACOI staff for all their help in organizing our Visiting Professor sessions. It was terrific. We were able to promote our sessions so that we had great attendance. Last year, Dr. Good visited us and his session was wonderful, very interactive and gave us a realistic view of medicine in the future. He discussed the time commitment, financial burden and training involved if one were to pursue the various subspecialties. Additionally, since at this time in our medical education we are following a traditional track, it was interesting to have Dr. Good present a clinical case for us to discuss. It was very engaging for the students and I could tell they were excited by it. Dr. Holler did a Visiting Professor session more recently that focused on end of life matters which is her field of expertise."
— Oksana Vasylivna Mayovska and Sanath Shetty, Co-Presidents of the Rowan SOIMC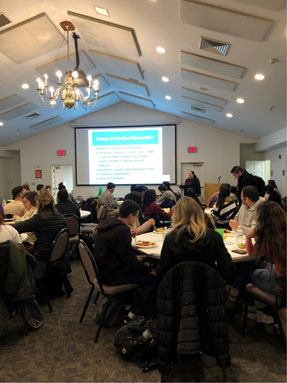 On March 4, 2019, ACOI President Annette T. Carron, DO, FACOI traveled to WVSOM as a visiting professor and delivered her lecture "How to Succeed on Rotations." What a great turnout!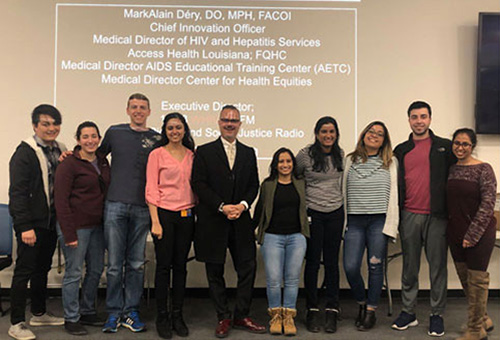 Pictured with Dr. Dery is Sebastian Geraci, Ann Jose, Zai Ganesh, Ooha Kambhampati, Kim Soultan, Daniel Francis and Sneha Chittabathini.
"Just wanted to thank ACOI again for arranging Dr. Dery to come speak with us! He gave us an awesome talk! All those who came out enjoyed his talk a lot and we would love to have him again next year as well!"
— Ann Jose, NYIT SOIMA National Liaison
Ways of Giving
There are a number of ways you can make a gift to the ACOI: