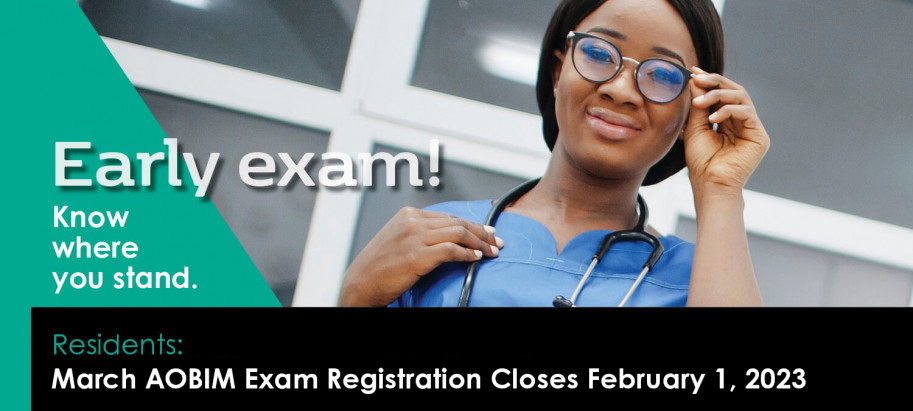 Everything You Need to Know to Register for the Early Entry Pathway AOBIM March Exam!

As osteopathic internists know, the AOBIM exam is the GOLD STANDARD for up-and-coming osteopathic internists. Here are some quick facts to help see if you are qualified to take the exam and how to register before the deadline of February 1.
Who is eligible to take the Early Entry Exam?  Third-year Internal Medicine residents who have participated in the ACOI In-service Examination during each of the first two years of internal medicine residency and have an anticipated training completion date of August 31, 2023 or earlier.
Why take the early entry exam? Provide yourself some much-needed stress relief by getting your certification exam done this Spring! It's one big thing to mark off your to-do list. The AOBIM offers this special opportunity to take the exam in the Spring, sooner than the typical fall date, to allow Residents who are juggling many demands to complete this requirement sooner. Plus, it is a great way to see where you stand without the stress of waiting until the Fall! 
Can I take the AOBIM again in the fall if I take it in the Spring? Absolutely! And, you'll be even better prepared and more confident having taken it in the Spring. 
What are the important dates to know?  

Register for the early pathway exam by February 1, 2023 to avoid late fees. The final deadline is February 12. 
Early entry exam will be held remotely March 1-3, 2023.  
Register for the fall exam by July 20, 2023 to avoid late fees. The final deadline is August 20.
The fall exam will be held remotely in September 20-22, 2023. Additional information coming soon!

How can I prepare for the exam? The ACOI 2022 Board Review Course is an excellent resource to prepare for the exam and can be purchased on our Online Learning Center. 
Should I take the ABIM or the AOBIM? The AOBIM is clinically equivalent to the ABIM and offers more options for recertification than does the ABIM, removing the high stakes pressure of the ABIM. Residents of osteopathic internal medicine are highly encouraged to take the AOBIM boards to help them stay on their path. You've made a commitment to the osteopathic world of medicine and statistics show more and more medical students are going in the osteopathic direction. In fact, there are more medical students now attending colleges of osteopathic medicine than ever before! We all know that the DO approach is a special one that considers a holistic viewpoint by creating a partnership with patients that through a collaborative approach helps patients live their best lives.