Bringing Our Experts to Your Campus 
Supporting students is an important piece of the work we do at the ACOI. For a quarter of a century the Visiting Professor Program has brought physicians and experts from every specialty and from all corners of the U.S. to participating campuses to share their experience and passion about medicine with students.
Designed to expose students to the many opportunities available to them, ACOI speakers instruct and lead discussions in their area of clinical expertise. In addition, they present students with practical career information and often are valuable resources for students as they continue their training toward their degree in osteopathic internal medicine.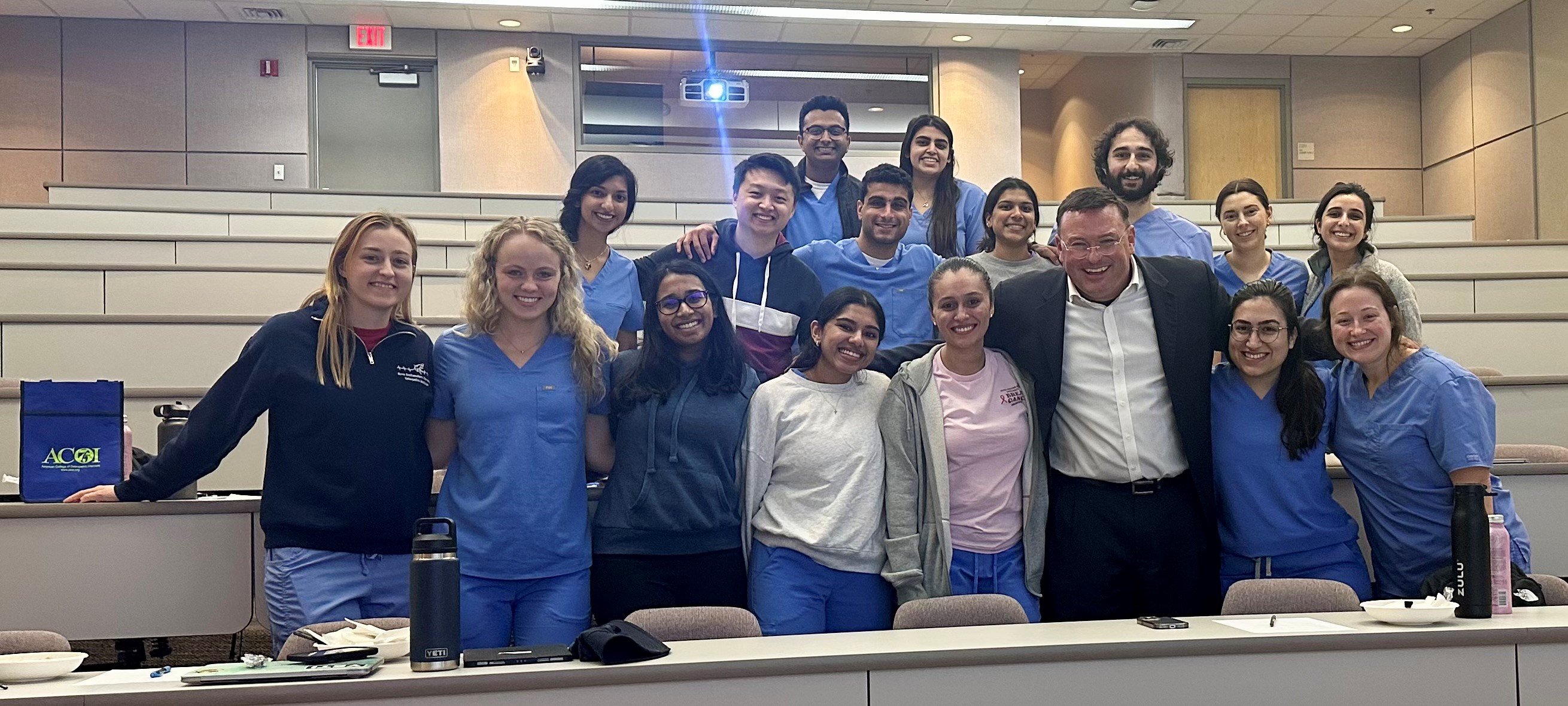 On average, the ACOI proudly sends 30 or more professors to colleges of medicine throughout the country each year to support student education and to lend a hand in their future success.
Would you like to host a Visiting Professor at your school?  
We can arrange both in person and virtual sessions. Send an email to Kara Kerns at kara@acoi.org for more information.
2023-2024 Visiting Professor Program Schedule
Edward Via College of Osteopathic Medicine – Auburn (VCOM-Auburn)
Speaker: Charlene LePane, DO, FACOI
Lecture Title: Becoming a Doctor: It's the Best Journey of Your Life
Date/Time: August 14, 2023 (5:30-6:30 PM CT)
Format: In-Person

Kirksville College of Osteopathic Medicine (KCOM)
Speaker: John Sutton, DO, MACOI
Lecture Title: Endocrine Images
Date/Time: September 15, 2023 (12:00-1:00 PM CT)
Format: In-Person
 
New York Institute of Technology College of Osteopathic Medicine - Arkansas State University (NYITCOM-Arkansas State University)
Speaker: Laura Rosch, DO, FACOI
Lecture Title: What I Wish I Knew Training - Some Collective Pearls from ACOI Members
Date/Time: September 28, 2023 (12:00-1:00 PM CT)
Format: Virtual

Nova Southeastern University Kiran C. Patel College of Osteopathic Medicine (NSUKPCOM)
Speaker: Robert Hasty, DO, FACOI
Lecture Title: How to Get Into Residency
Date/Time: October 04, 2023 (12:00-1:00 PM ET)
Format: In-Person

Des Moines University College of Osteopathic Medicine (DMUCOM)
Speaker: Matthew Hardee, DO, FACOI
Lecture Title: Neuroplasticity and the Art of Being Positive
Date/Time: November 01, 2023 (12:00-1:00 PM CT)
Format: In-Person

Lake Erie College of Osteopathic Medicine (LECOM)
Speaker: Annette Carron, DO, FACOI
Lecture Title: How to Succeed on Rotations
Date/Time: November 01, 2023 (5:30-6:30 PM ET)
Format: In-Person

Lake Erie College of Osteopathic Medicine - Bradenton (LECOM-Bradenton)
Speaker: Robert Hasty, DO, FACOI
Lecture Title: How to Get Into Residency
Date/Time: November 02, 2023 (5:30-6:30 PM ET)
Format: In-Person

Kansas City University of Medicine and Biosciences College of Osteopathic Medicine (KCUMB)
Speaker: Jack Bragg, DO, MACOI
Date/Time: November 8, 2023 (6:00-7:00 PM CT)
Format: In-Person

Kansas City University of Medicine and Biosciences College of Osteopathic Medicine – Joplin (KCUMB-Joplin)
Speaker: Damon Baker, DO, FACOI
Lecture Title: Audition Rotation and Residency Interview Success
Date/Time: November 10, 2023 (12:00-1:00 PM CT)
Format: In-Person

Idaho College of Osteopathic Medicine (ICOM)
Speaker: Mark Baldwin, DO, FACOI
Lecture Title: How to Get the Best Out of Your Training
Date/Time: November 10, 2023 (12:00-1:00 PM MT)
Format: In-Person

Edward Via College of Osteopathic Medicine – Virginia (VCOM-Virginia)
Speaker: Charlene LePane, DO, FACOI
Lecture Title: Becoming a Doctor: It's the Best Journey of Your Life
Date/Time: November 13, 2023 (6:00-7:00 PM ET)
Format: In-Person

Liberty University College of Osteopathic Medicine (LUCOM)
Speaker: Charlene LePane, DO, FACOI
Lecture Title: Becoming a Doctor: It's the Best Journey of Your Life
Date/Time: November 14, 2023 (12:00-1:00 PM ET)
Format: In-Person

Touro University Nevada College of Osteopathic Medicine (TUNCOM)
Speaker: John Sutton, DO, MACOI
Lecture Title: Endocrine Images
Date/Time: November 16, 2023 (4:00-5:00 PM PT)
Format: Virtual 

Touro University College of Osteopathic Medicine – California (TUCOM-California)
Speaker: Annette Carron, DO, FACOI
Lecture Title: How to Succeed on Rotations
Date/Time: November 17, 2023 (12:00-1:00 PM PT)
Format: Virtual 

Touro College of Osteopathic Medicine – Harlem (TouroCOM-Harlem)
Speaker: Marianne Holler, DO, FACOI
Date/Time: January 3, 2024 (12:00-1:00 PM ET)
Format: In-Person