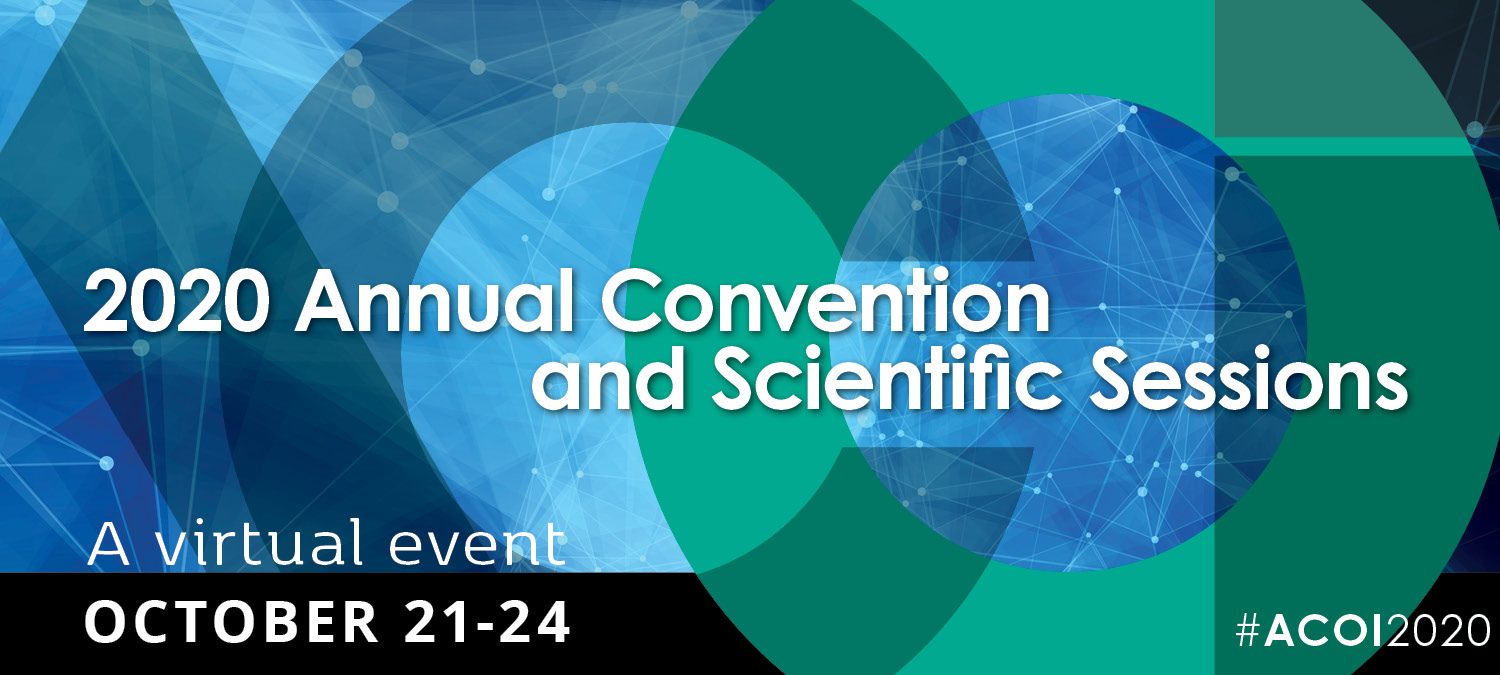 Join us Online, October 21-24 for the
ACOI 2020 Annual Convention and Scientific Sessions
At the ACOI we believe that with challenges come opportunities. As 2020 evolves and proves to be one with broad challenges that have had personal and professional implications for our members, we are excited to continue to find ways that move our organization forward as we always have in good times and in bad since 1941.
In the spirit of Leadership, Community, Education, and Health and Wellness, there is no better way to live these Four Pillars than by connecting with our members at the Annual Convention. To that end, we are excited to announce that we will join together, virtually, this fall for the ACOI 2020 Annual Convention and Scientific Sessions!
Although we are disappointed at the thought of not being able to see each other in person this year, rest assured that we are going to be hosting an unforgettable virtual event that will allow for broader participation, allowing more members to join – from your living rooms, or offices, or wherever you choose to connect.
For many of us, the ACOI Annual Convention is a highlight of our year and this year will be no different as we will continue to offer the ability to:
Attend live CME sessions
Socialize, recharge, and connect with our colleagues both professionally and personally
Participate in the Fellows Convocation
Showcase the work of Residents with the Resident Poster Contest
Stay current on the continual advancements being made in osteopathic internal medicine
Come back here for more announcements and updates. We will be sharing additional details in the coming weeks and months ahead, and don't forget to connect with us on our social media platforms for the very latest. You may always email questions to Susan Stacy at susan@acoi.org. Thank you for your flexibility and optimism. Together we will remain strong and connected as an ACOI family.
Poster Contest
Calling all residents, fellows, and students - our poster contest is going virtual! Check out the details on how to submit an entry here. 
Exhibitors
5,000+ members, 1,500+ attendees, 30-40 exhibitors - read more about how to become an exhibitor at ACOI's 2020 Convention here. 
Social Media
Keep up with the latest news before, during, and after the convention by following us on social media! Post about your experience using the hashtag #ACOI2020. 
Frequently Asked Questions
Since this is ACOI's first virtual meeting we're sure you have a lot of questions - an FAQ is coming soon!