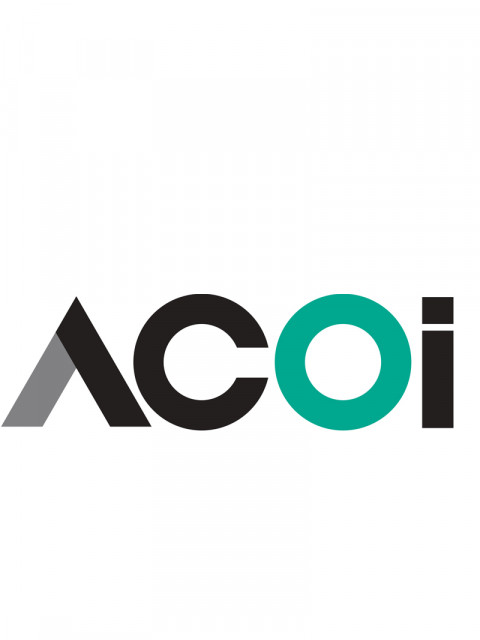 A Letter from the SOIMA Officers
by ACOI
March 17, 2023
Hey Everyone,
Not sure if you have heard of SBAR before, but it is an efficient communication tool developed by the US Navy and adopted by many healthcare systems. It stands for Situation, Background, Assessment and Recommendation. Please enjoy our SBAR from the national Student Osteopathic Internal Medicine Association (SOIMA)!
S: You have some newly nationally elected officials of SOIMA, the student arm of ACOI. We are excited to serve as your liaisons and wanted to introduce ourselves. One of our main goals as a group is to facilitate communication among the different chapters at the various campuses.
B: Elections were held, and results were announced in October 2022. SOIMA was established to connect students with the ACOI family and build interest in the amazing world of internal medicine and its subspecialities.
A: You don't know who we are, and we are here to help you! Follow the recommendations below!
R: We suggest that you read the bios for Joanna, Christine, and Breeana below to learn more about your officials. We also encourage you to join us for a Town Hall we will be hosting on Wednesday, April 12 at 8:00 PM Eastern Time. You can register here.
If you are in leadership for your IM Club, please check out this Google Form. In exchange for completing the entire survey, student leaders will be eligible for a chance to win special ACOI giveaways!
President:
Hello SOIMA members! My name is Joanna Paula Manansala (she/her/hers) and I am an OMS-II from A.T. Still University - School of Osteopathic Medicine in Arizona (ATSU-SOMA). I am so grateful and excited to serve you as the first-ever nationally elected president of SOIMA! I will also continue to serve you as part of the executive board next year. I am interested in internal medicine for its vast medical coverage and extensive subspecialties. I believe that knowing how to navigate the complexity of human health will allow me to help more people and see them through their journey to wellness. I also love the idea of continuity of care - seeing people thrive is what gives me motivation to serve. This is also why I am so thrilled to be in this position. My goal for SOIMA is to help each and every one of you get the resources you need to become a thriving medical student and future IM doctor!
Some fun facts about me - I LOVE CATS! I have a 1 year and 6 month old tabby cat named Phoebe and she has been my emotional support through med school and life. I am an avid Haruki Murakami reader, and I love to cook (and eat) Korean food! If you have any inquiries, or just want to share adorable pics of your cats, please feel free to email me at sa207390@atsu.edu! (FYI: I also love dogs, so please feel free to share them with me as well!) I look forward to serving you all!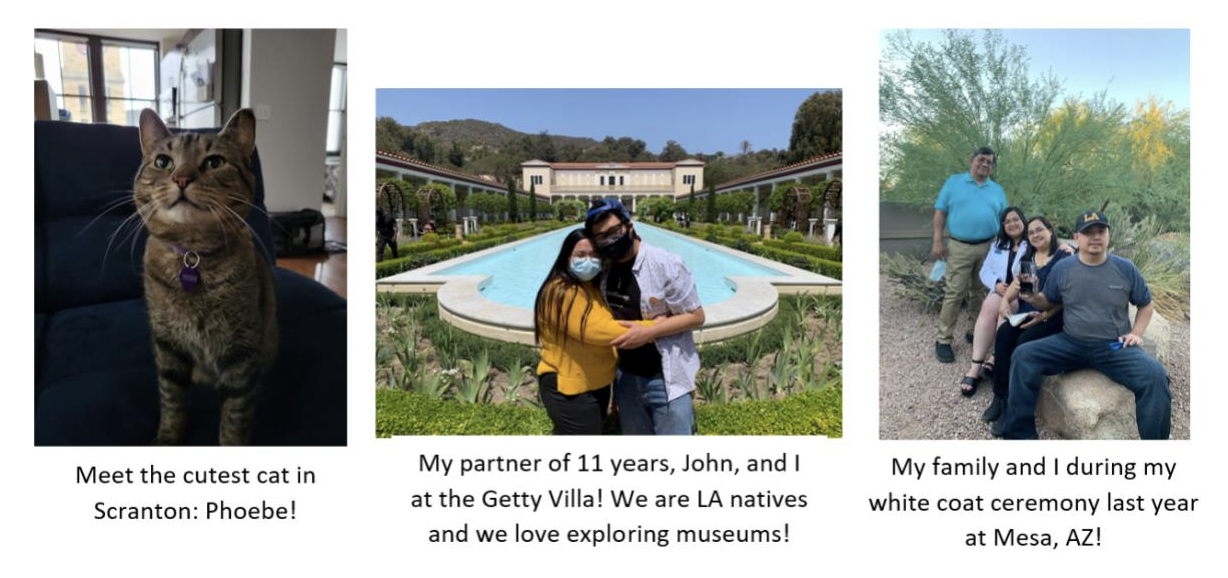 President-Elect:
Hey guys! My name is Christine Mayuga and I am an OMS-II from VCOM-Virginia in Blacksburg. I am currently serving as your President-Elect of SOIMA so I will be contributing to our executive board this year and then taking on the position of President next year. I am interested in Internal Medicine because I like the idea of long-term care and being able to follow patients with chronic conditions. Fun fact about me: I've run four marathons! Fellow IM-interested runners follow me on Strava!
I ran to be President-elect because participating in SOIMA for two years will help facilitate my goal of improving the communication among the osteopathic IM club chapters. I hope we can be an approachable and useful resource in connecting the students with the abundant resources ACOI generously offers us. Shoot me an email at cmayuga@vt.vcom.edu or add me on social media to introduce yourself or share your ideas anytime!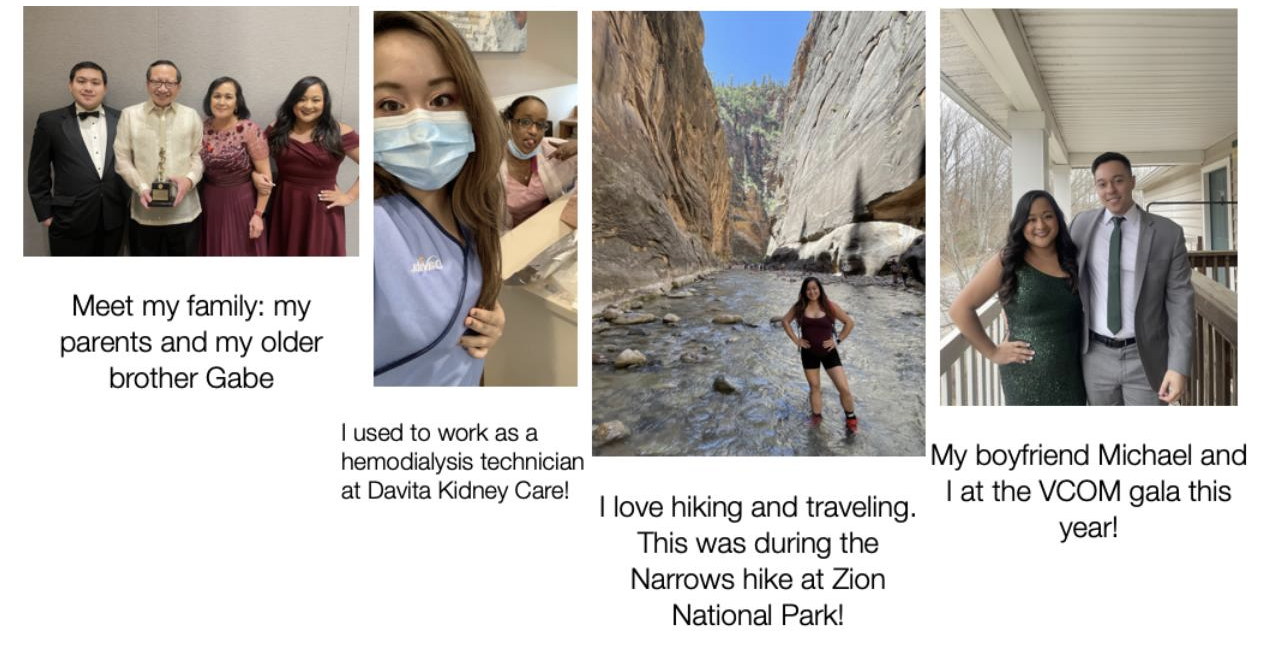 Secretary-Treasurer:
Hey everyone, Breeana Wade, your secretary-treasurer here. I will start with the fact that I am an OMS II at Pacific Northwest University College of Osteopathic Medicine but that is not who I am. I am one of four children, but the only daughter for my parents. I am a wife of 15 years to a super supportive husband who said, "What do you need," when I woke up one morning determined to go to medical school. We have 3 rescued senior dogs at home who keep life interesting. I am a gummy bear aficionado.
In all seriousness, I had a bit of winding road before starting med school. While on that road, I discovered a love for internal medicine, especially nephrology. I enjoy the idea of developing a long-term relationship with patients. It was the same feeling of building a lasting relationship that drew me to ACOI and the opportunity to serve the members of SOIMA. Some passions I bring to this position are encouragement and support. This journey can be frustrating or discouraging and I want to say you are not alone. Please reach out, bwade@pnwu.edu, if you need someone to listen or to remind you just how amazing you are.

Thank you for hanging with us until the end. We really appreciate your time and look forward to hearing from you. If you didn't know, you can connect with ACOI on Facebook, Instagram, and Twitter.
Kindly,
Your SOIMA Officers