SOIMA 2023-2024 Officer Elections
Candidates for Region III Representative

Madelynn Corda, OMS III, Campbell University School of Osteopathic Medicine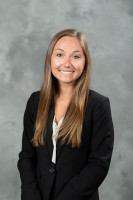 Hello all, To those who do not know me, my name is Madelynn Corda and I am a third year osteopathic medical student at Campbell University School of Osteopathic Medicine in Buies Creek, North Carolina seeking the esteemed position as the 2023-2024 Region III Representative. I am a long way from home where I grew up in the Midwest and attended college at Michigan State University, but I feel nevertheless very much at home in the inpatient setting of any hospital. To know me is to know that I am very dedicated to the field of medicine and to helping my community in any way I can. I recently received the Rachel Helen Silver Award, an accolade awarded to a student who has demonstrated considerable community service in the greater North Carolina area. I believe it was my efforts in my role as the Executive Director of our Community Care Clinic that earned me such an award. I have been so blessed to have had this and many other opportunities to serve the underserved of the southeastern United States and have big plans to continue this work in my future. In my spare time, I volunteer on the local EMS and Rescue squad in Lumberton, North Carolina and I have an upcoming trip to Ecuador to rotate on my Rural and Underserved rotation for one month. I am very much dedicated to a career path in Internal Medicine and have been an active member of the American College of Osteopathic Internists and the American Osteopathic Foundation since I started medical school. I also held the position of Infectious Disease Chair in my school's Internal Medicine Club in addition to co-founding a GHHS chapter and founding a Clinical Spanish Interest Group. I recently started my medical school rotations with 8 weeks on our Internal Medicine service in Lumberton, North Carolina, another extremely underserved and under-resourced area. While we may not have the shiny equipment and other resources, the attendings and residents I have been learning from and working with are incredible and I hope to one day be able to use the talents I gain through a career in Internal Medicine to practice medicine in similar types of communities. I find my daily interactions with patients evermore enriching and the expansive diagnostic and medical decision making that we do as internists very rewarding. I have found that Internal Medicine has so much to offer in ways of an abundance of diverse pathology, unique patient-centered interactions, and a lifetime of learning and adapting to new changes in guideline-directed medical therapy according to the most updated research and data. It is truly a lifetime of learning that we as future internists seek.
If elected, I plan to use my clinical and leadership experience thus far, connections with attendings and residents alike across multiple schools and hospitals in various states to initiate projects and outreach - both domestic and international - to stimulate growth of our field and expansion of our professional networks. Thank you all so much for your consideration of me, Madelynn Corda, as your Region III Representative. I promise to lead from a position of solidarity and advocacy for my fellow budding internists and to forge new opportunities and projects for us to collaborate on to enhance our understanding and passions for Internal Medicine and enhance the experience that our patients get from our care. Thank you.
Rayhan Karimi, OMS III, Edward Via College of Osteopathic Medicine - Carolinas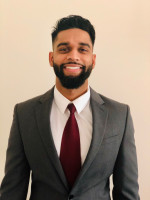 Fellow members of the Student Osteopathic Internal Medicine Association,
It is with great enthusiasm and dedication that I stand before you today as a candidate for the position of Region III Representative for the national SOIMA chapter. My name is Rayhan Karimi, and my journey with SOIMA began at VCOM-Carolinas, where I am currently a 3rd-year medical student. Over the past years, I have been deeply involved in our organization, contributing to its growth, and fostering a community of passionate and skilled individuals.
During my first two years at medical school, I proudly served as the Vice President of SOIMA. In this role, I had the privilege of working alongside a talented board of individuals who shared a common goal: to enhance our knowledge and skills in the field of internal medicine. Together, we organized a remarkable total of 45 events, each designed to delve into the intricate world of internal medicine and its various specialties.
One of the highlights of my journey was the opportunity to bring in esteemed guest speakers, facilitate free clinic initiatives, and conduct skill workshops that enabled us to refine our abilities. Through these events, we not only expanded our understanding of internal medicine but also honed practical skills that will undoubtedly serve us well in our medical careers.
As Vice President, I held the responsibility of preparing our members to become adept, knowledgeable, and skillful in internal medicine. Now, as I step forward as a candidate for the national position, I carry with me the lessons, experiences, and determination garnered from my past role. My ultimate goal is to leverage this experience and lead SOIMA into a future of even greater success.
Looking ahead, I have three core goals that will shape my tenure as Regional Representative. Firstly, I am dedicated to strengthening our students' skills and enhancing their applications for residency programs. The field of internal medicine demands not only a profound understanding of medical knowledge but also the practical skills to apply that knowledge effectively. By offering targeted workshops, mentorship programs, and tailored resources, I intend to empower our members to stand out as exceptional candidates.
Secondly, I envision a collaborative network of SOIMA chapters from different regions. By creating events and initiatives that involve chapters nationwide, we can foster a sense of unity and shared purpose within our organization. This synergy will not only expand our reach but also enrich our members' perspectives by exposing them to a diverse array of experiences and viewpoints.
Lastly, I am committed to encouraging our students to embrace networking opportunities like the ACOI conference. Having personally attended the conference in 2022, I can attest to the immense value it offers in terms of professional growth and networking. By guiding and inspiring our members to participate in such events, we can empower them to connect with leaders in the field, explore potential career paths, and open doors to future success.
If elected as the Representative for the national SOIMA chapter, I pledge to dedicate myself to our organization's growth, our members' success, and the advancement of the field of internal medicine.
Thank you for your consideration.
Amulya Kulkarni, OMS II, Lake Erie College of Osteopathic Medicine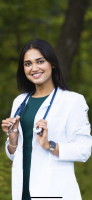 As future Internists, we play an important role in patient care and serve as the primary sources of support and confidence for our patients. It is imperative to treat our patients with respect and understand their conditions from multiple different perspectives. My priority is to promote cultural competency and stress the importance of being a socially conscious physician while giving forward to the community we live in. Addressing the needs of underserved communities and helping people achieve their personal goals has been a priority throughout my career. An experience that has prepared me for a role like that of region representative is when I served as the project lead for a non-profit organization based in Los Angeles CA called Heal One World. Our mission was to offer holistic practice classes such as Yoga, Reiki, and Tai Chi free of cost without turning people away due to lack of funds. These types of classes are often inaccessible to many communities due to high cost or the lack of coverage from health insurance companies, therefore it was of greatest importance to organize the non-profit in a way that could provide all people with the equal opportunity to find their path to well-being without the worry of cost. My role as project coordinator was to organize weekly meetings, and community projects, assist with marketing, and maintain relationships between different parts of our board to make sure the organization ran smoothly. I also was responsible for rebranding the organization's social media and created/designed multiple social media platforms to increase engagement. I truly enjoyed leading our team, working in a team, and the creative aspect of my role. It was incredible to be a part of an organization that served as a safe place and home for many people and underserved communities. I hope to use my strengthened leadership skills and knowledge to serve as a strong Region III representative for SOIMA.
Robert Repetti, OMS III, Campbell University School of Osteopathic Medicine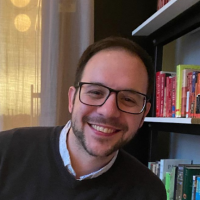 I use to be an engineer studying fluid dynamics. Through my work, I collaborated with a Nephrologist who eventually became my mentor. This was in 2017, and my experience working with an internal medicine physician was so overwhelmingly positive that I am now in my third year of medical school and I am confident that I would like to be an internal medicine physician when I complete my training. While I have been at Campbell University, I served as the President of the Student Association of Military Osteopathic Physicians & Surgeons (SAMOPS). In this role, I acted as a liaison between the national organization and my local chapter. As the Region III Representative, I would perform similar duties. I understand the importance of strong communication and value the opportunities that ACOI has to offer. If elected I will do my absolute best to perform the duties required of me.