SOIMA 2023-2024 Officer Elections
Candidates for Region I Representative

Sayed Aftab, OMS II, Rowan-Virtua School of Osteopathic Medicine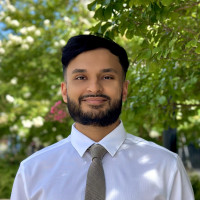 My passion for internal medicine began as a pre-med and grew as I transitioned into my role as a medical student. Regarded as the backbone of medicine itself, internal medicine to me offers a wide variety of opportunities to learn and engage within the community. Such an opportunity came to me to serve as the Co-President at the Rowan University chapter of SOIMA and I could not have been happier. As a leader, I look forward to sharing that enthusiasm with my classmates and finding ways we can better our knowledge and skills to one day become practicing internists. If elected, I will be bringing my experience in advocacy and outreach to SOIMA as I have done so with Medical Society of New Jersey and the American Medical Association. Advocacy and outreach can help tackle and potentially resolve the issues we have on a state and national level. Whether it be increasing access to care for a certain population, or designing a program to enhance medical students in their pre-clinical years, or fighting for a bill to pass more GME positions, I want to be involved in the forefront. I believe it is incredibly important that osteopathic medical students remain cognizant and bring change to these areas as our presence grows. I am excited to continue learning more about SOIMA and the work I can do to be the best student and future professional that I can be.         
  
Srujan Dadi, OMS III, Rowan-Virtua School of Osteopathic Medicine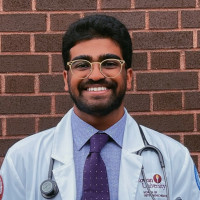 Creating and Healing – these two acts have defined my academic journey, my pursuit of purpose. When done with experience, compassion, and a delicate hand, the acts of creation and healing comprise what I believe is the art of medicine. There is no better career for these two to complement each other than in internal medicine.
I still remember from my bioengineering undergrad being told to "fail fast" and to use "human-centered feedback" often, common principles for the biotech industry to ensure impactful device development. I utilized these ideas to develop a learning tool for disabled children, a universal IV pole attachment, a proof-of-concept transcranial stimulation device, and more in my undergrad – and as I work through the early phase of my medical journey, I find these principles still at the heart of my work. Whether it be disease presentation or basic physiology, experiential learning has given me the space to make mistakes and hone my understanding of the subject over time. Rotations have provided a patient's view and given our classroom content a patient-focused foundation.
My internal medicine rotation didn't simply show me how to manage CKD or treat MI; it demonstrated to me what the art of medicine truly is. As I return from the cath lab and report the findings of the procedure and what was done, I can almost hear the gears turn and lock into place from my attending who so quickly concatenates this information alongside the vast mental database of information they already have about the patient to create an entirely new plan of care.
Internal medicine is where the beauty of intricate physiology meets the humanistic nature of caretaking, all the while requiring a steady head and stern leadership to best advocate for a patient's individual care amongst the plethora of specialists with conflicting ideas of what should be done for this person. While the other clinicians treat the acute issue, the internist is tasked with handling that acute flare while also recognizing the human aspect of medicine.
When I look at IM plus its subspecialties, I find the perfect field for creators and healers; a space for procedural intervention alongside brilliant and creative thinking that ultimately leads in unique and optimized care regardless of the complexity of the case. IM is the perfect playground for creation, and the life-saving care done for patients is the epitome of healing we learn as medical students.        
 
Tiffany Sculthorpe, OMS III, Rowan-Virtua School of Osteopathic Medicine

As a third year medical student, I have spent the previous two years learning pre-clinical medicine. Outside of the classroom however, I always felt inclined to experience all of the opportunities put forth by my medical school. Primarily, I took keen interest in ACOI and SOIMA in hopes of learning more about internal medicine. I am running for Region I Representative because I feel I can bring passion, organization, and strong leadership to the position. My experiences include various leadership positions, including on Rowan-Virtua SOM's SOIMA Chapter, where I learned to delegate tasks, take ownership, and lead by example to my peers and younger classmates. My highlight event was organizing and hosting the internal medicine panel. Through this experience, I feel that I was able to collaborate with other clubs on campus, as well as physicians and administrators, in order to put together this successful event.         
       
I now feel eager and excited to expand my experiences in ACOI with this position. I plan to use my ability to organize events, connect students with mentors, and organize journal and research opportunities for my classmates to help me in this position. With this, I feel I will be able to adequately maintain outreach to other students in the northeast interested in internal medicine through engagement, inclusion, and collaboration of thought.         
        
I believe that an internal medicine residency provides future physicians with the most versatile and well-rounded education. Aside from opening doors to multitude of subspecialties, it allows you to holistically see, experience, and understand the multifaceted nature that is medicine. It fosters interprofessional growth and permits deeper understanding of the healthcare system. I aim to share this passion with other students, and given a platform, believe that I am competent to excel with whatever tasks are required of me. I am looking forward to potentially representing the northeast region of SOIMA.