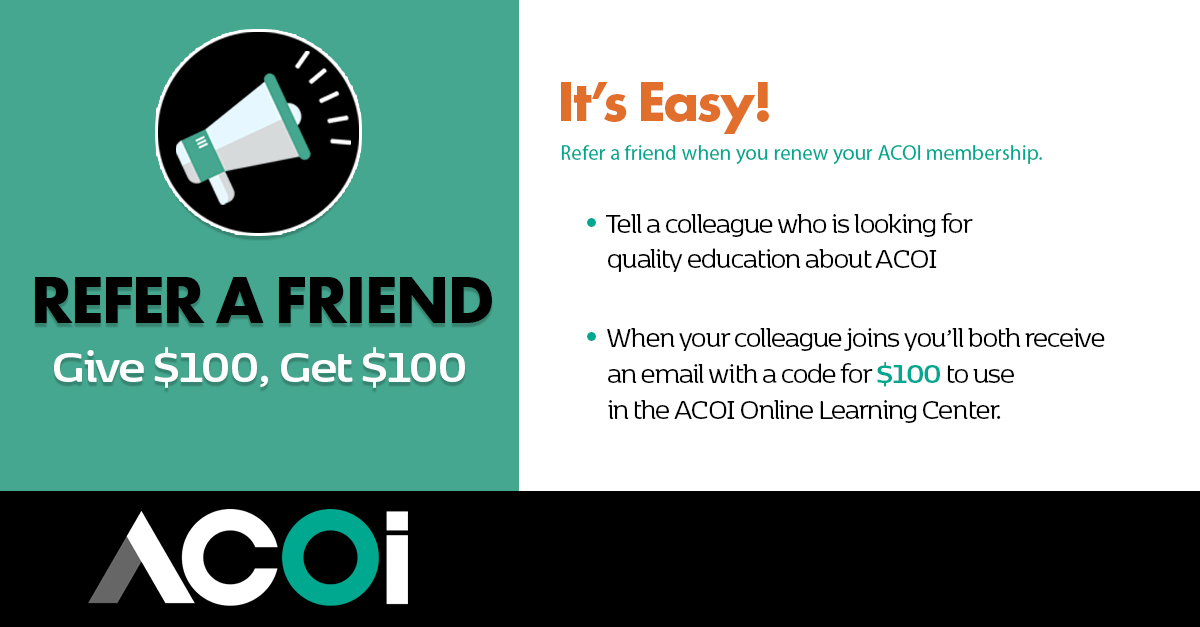 Give $100; Get $100

Tell a colleague who is looking for quality education and appreciates the osteopathic medical community about ACOI. If your colleague joins, you'll both receive an email with a code for $100 to use in the ACOI Online Learning Center. With a $100 credit, you'll enjoy a selection of excellent educational programming, including up to three courses for free. 
It's Easy!
Step 1:
Share a link to this page with your colleague.
Sample referral email:
I'm a member of ACOI and I thought you might want to join too. You'll gain access to quality continuing education, leadership opportunities, networking, and more. Put my name down on your application and you'll receive a $100 credit to use in the ACOI Online Learning Center. Check out the offer here. 
Step 2:
Renew your membership and add your referral name to your membership application form.
Step 3:
Look out for an email with a code to use your $100 credit on the ACOI Online Learning Center. 
Terms and Conditions:
To receive the promotional code of $100 to use in the ACOI Online Learning Center, your 7/1/22 – 6/30/23 dues must be paid. When remitting payment online, add the name of your referral on the dues payment page. Your referral must add your name on their membership application form. Once both memberships have been verified/paid, both parties will receive an email with the promotional code. While you may refer as many colleagues to ACOI for membership as you wish, the credit of $100 can only be used one time per person on the ACOI Online Learning Center. If you have already paid for this current dues year and would like to refer someone, simply have them enter your name on their application when they apply. This campaign and promotional code expire 06/30/2022.