Stay True to Why You Pursued Medicine
The ACOI was founded in 1941 by osteopathic internists as a way to improve the care they provided to their patients. Today, nearly 80 years after its founding, the College has evolved beyond what anyone could have predicted all those years ago. The College bases all of its activities on four pillars: education; community; leadership; and health and wellness. Our promise is to help you stay true to why you pursued medicine.
We Invite you to Join the ACOI Family
Today, the ACOI is a professional family where caring for our members is central to our purpose. Quality education and professional growth represent our foundation, but for many members, there is much more. We strive to keep you at the top of profession, but we also have created a home where we promise to support you through all the phases of your career.
ACOI has helped me serve my patients with more compassion, more empathy, because that is what ACOI has shown to me.
Amita Vasoya, DO, FACOI, member since 2001
As an ACOI Member You'll Be Able to:
Access Quality Continuing Education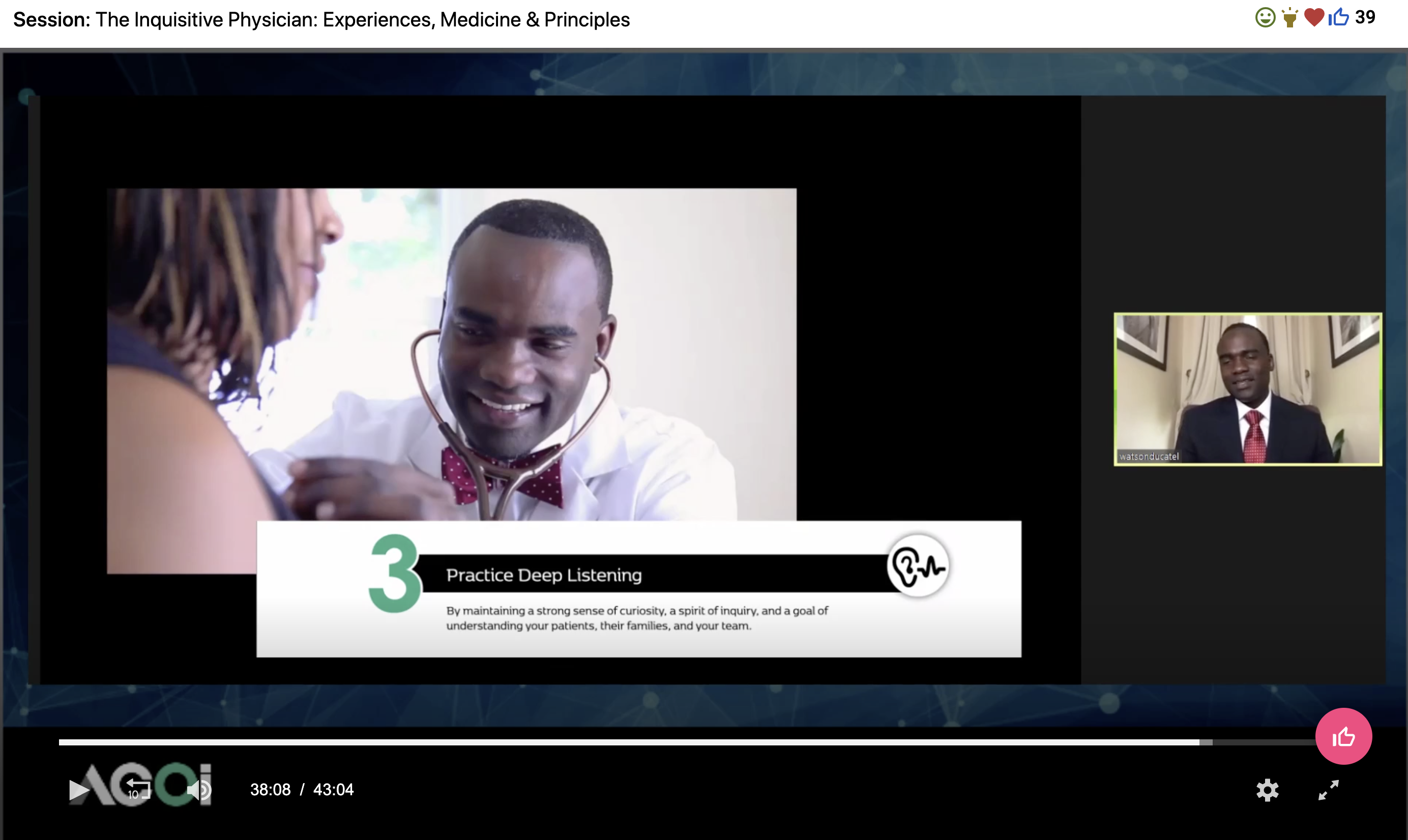 ACOI's 2020 Virtual Convention: Dr. Watson Ducatel presents
"The Inquisitive Physician: Experiences, Medicine & Principles"
ACOI is committed to providing the highest quality continuing education. We are certified by both the American Osteopathic Association (AOA) and the Accreditation Council for Continuing Medical Education (ACCME) to provide continuing medical education. Our CME activities are available in all formats – from live events, to webinars, to virtual meetings. Our live events are rated very highly by attendees for the quality of our speakers and the information provided. The ACOI Online Learning Center is where members find on-demand CME activities that provide the specialty credits needed to meet their state licensure and certification requirements. Members receive substantial discounts on the registration fees for every ACOI continuing education activity – online and in the classroom.
Connect, Bond, Enjoy Sharing with Your Colleagues
The ACOI is committed to providing a vibrant and welcoming community for our members. Throughout the year, members are offered multiple opportunities to get together. Our meetings are valued as much for the chance to meet with colleagues and friends as they are for the educational information conveyed.
We are also committed to the health and wellness of our members. Our wellness activities, such as our peer-to-peer virtual discussion sessions on the recent COVID-19 pandemic, help our members prioritize self-care.
Pursue Recognition Opportunities with the FACOI Designation
Apply to become an ACOI Fellow or Master Fellow – This prestigious status elevates you to an elite category of professionals that garners the trust and respect of your peers, colleagues and patients.
I became an ACOI member because I wanted to be with other osteopathic internists who practice the same principles of osteopathic patient care. As a regular attendee at the College's annual conventions, I enjoy meeting osteopathic internists from across the country. I find the convention lectures to be wonderful. They provide excellent opportunities to learn from specialists who have their fingers on the pulse of research and treatment in the field.
Morvarid Rezaie, DO, FACOI, member since 2009
Community has meant the most to me. I identify the closest with this organization than all the organizations I belong to.
Robert DiGiovanni, DO, FACOI, member since 1987
Advance your Career with Placement Opportunities
Members of ACOI are able to advertise professional opportunities available or sought at no charge in the newsletter and on our website. In addition, an informal "job-exchange" is held at every annual convention.
Enhance Your Leadership Skills
As a smaller organization, ACOI provides many opportunities for member participation and growth. We make it is easy for you to develop your leadership skills through participation in our committees, councils and task forces. Our committees and other work groups are the backbone of our education programs and other offerings. They are also the proving grounds for those who wish to advance to service on the Board of Directors.
For those who wish to make a difference with future generations of osteopathic internists, we have a mentor program to guide students and residents.
Being a member of ACOI grants me opportunities. There's nice camaraderie between fellow residents and faculty. I've gotten a lot of insight into future career goals as a result of coming to the convention. I can go and talk to anyone around here…and they can be a guide and helping hand. I'd say to someone who is not a member to join since we have so many resources here. The biggest resources are the people.
Rani Kattoula, DO, Resident
My friends are here, my colleagues are here, my professional growth has been through this organization.
Samuel Snyder, DO, FACOI, member since 1990
ACOI is doing a lot more than other national organizations with its Visiting Professor program, grants to attend the Annual Convention and its mentoring program. I use the mentoring program and tell other students they should as well. 
Gina Gilderman, Student
Keep Up-to-Date on News Affecting the Profession
Membership in the College includes a subscription to ACOInfo, the monthly newsletter which provides timely information on CME, certification, subspecialty events, government and practice management issues, professional opportunities and more. Our vibrant virtual community lets you see what members are doing and hear the latest updates on some of the most important trends in healthcare. We invite you to follow us on Twitter, LinkedIn, Facebook, and YouTube. 
Discover Ways to Save Money