BECOME A MEMBER OF THE NEW ACOI SUSTAINERS CLUB


Help the College Better Plan for Its Future!
Sustainer Club Members are monthly donors who:
give by credit card

arrange a monthly debit from a bank account, or

send a check
Benefits of being a Sustainer Club member include:
Invitations to donor events at ACOI meetings

Special update communications from ACOI leaders twice a year

Special recognition as Sustainers Club members in ACOI publications and the website
Remember, your gift is tax-deductible to the full extent allowed by law. Sign Up Today by clicking this link!
---
"I am very pleased that ACOI members responded so positively and generously to the College's first-ever fundraising campaign. Due to our generous support, the ACOI will have the funds to accomplish an ambitious plan to advance and preserve osteopathic internal medicine. My thanks to our donors for seeing their financial investment in our future as a part of their legacy as an osteopathic internist."

Larry Haspel, DO, MACOI, Campaign Chair
The ACOI is especially grateful to Larry Haspel, who served as Campaign Chair, Marty Burke, Campaign Vice-Chair and the members of the 75th Anniversary Campaign Committee listed below for their generosity and leadership that helped insure the success of the College's first-ever comprehensive fundraising campaign.
Campaign Committee members included the following:
Jack Bragg, DO, MACOI (Past President 2011-2012)
John Bulger, DO, MBA, FACOI (Immediate Past President)
Mike Clearfield, DO, MACOI (Past President 2009-2010)
Rob DiGiovanni, DO, FACOI (Current ACOI Board member)
Bob Good, DO, MACOI (Past President 2012-2013)
Rick Greco, DO, MACOI (Past President 2013-2014)
David Hitzeman, DO, MACOI (Past ACOI Board member)
Kevin Hubbard, DO, MACOI (Past President 2007-2008)
Judy Lightfoot, DO, FACOI (Past President 2014-2015)
Karen Nichols, DO, MA, MACOI (Past President 2000-2001)
Tony Ottaviani, DO, MS, MACOI (Past President 1998-1999)
Rick Schaller, DO, MACOI (Past President 2005-2006)
Scott Spradlin, DO, FACOI
Robert Stomel, DO, MACOI (Past President 2002-2003)
John Uslick, DO, MACOI (Past President 1999-2000)
Larry Wickless, DO, MACOI (Past President 1990-1991)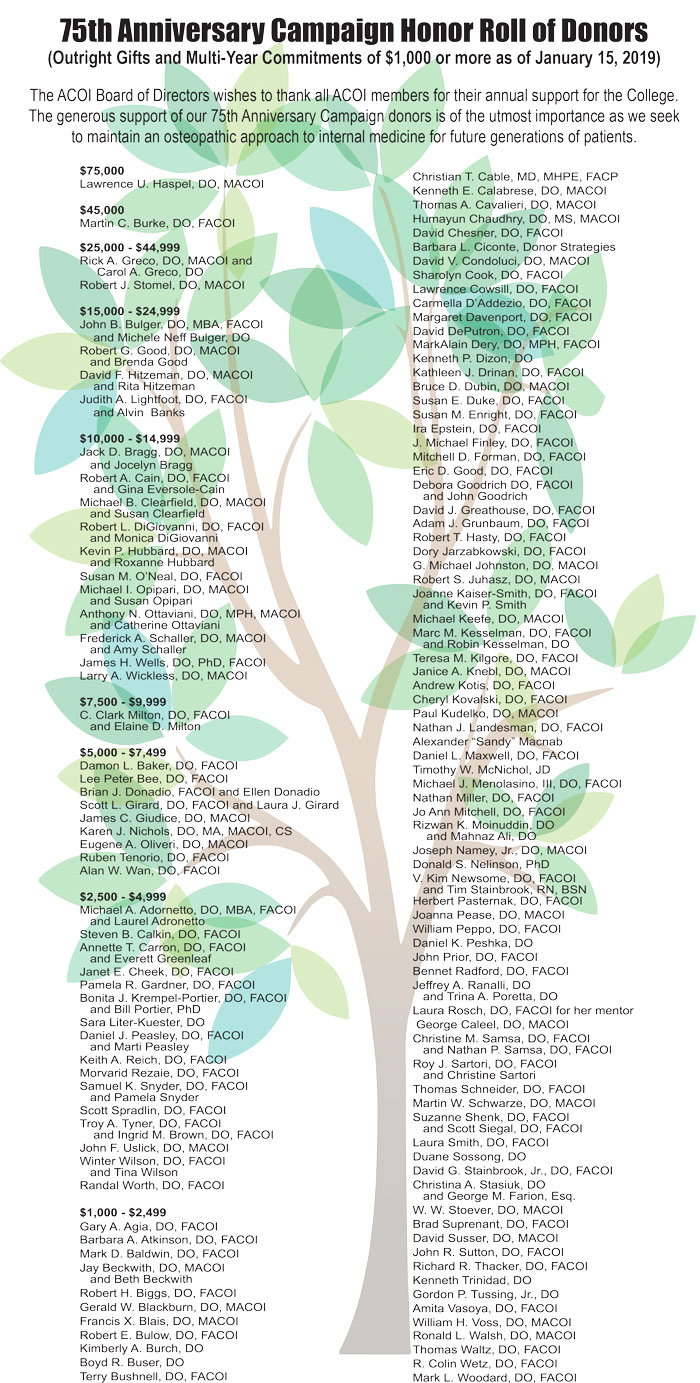 Implementing ACOI's Plan for the Future
UPDATE: We are now accredited by the ACCME to be a provider of CME that qualifies for both AOA and AMA credit, and meets the recertification requirements of both the AOBIM and the ABIM.

ACOI is utilizing the funds raised for the 75th Anniversary Campaign to create a home for those who believe in the patient-centered, osteopathic approach to healthcare that we call Principle-Centered Medicine. Our promise to members is to help you stay true to why you entered medicine.

The College is transforming from a Graduate Medical Education and Continuing Medical Education organization to a Professional Services Organization.
We are creating a community of learning through the enhanced use of technology. Our new Learning Management System, an online learning center, will allow the College to offer CME when, where and how our members need it.

We will be recognized as a provider of CME that qualifies for both AOA and AMA credit, and meets the recertification requirements of both the AOBIM and the ABIM in late 2018.

The ACOI will continue to emphasize the distinctive osteopathic approach that is both beneficial to patients and valued by them in all our continuing medical education offerings.

The ACOI continues to provide hands-on assistance to residency programs as they seek allopathic accreditation, and to encourage them to secure Osteopathic Recognition as they make the transition. This will assure that the distinctive osteopathic philosophy imbued in students during their medical school years will continue during residency. It is gratifying that virtually all of the ACOI internal medicine programs that have been reviewed by the ACGME have been granted initial accreditation.

Working collaboratively with other organizations that would further the ACOI's promotion of high-quality patient care has resulted in ACOI securing an ex officio seat on the ACGME Residency Review Committee for Internal Medicine, as well as full participation in the Internal Medicine Education Advisory Board. These interactions provide the ACOI with powerful new partners and allies and afford the College the opportunity to continue to influence internal medicine residency training beyond the transition.

A task force has been formed to develop and communicate a plan for integrating osteopathic principles and practices into the College's programs, products and services. The recently-completed 2017 ACOI Member Survey revealed that 47% of members use OMT at least some of the time in their practices. The ACOI Board recognizes that manual medicine, while not defining osteopathic care, should be a meaningful part of the discussion about osteopathic distinctiveness. The task force is charged with developing practical mechanisms for integrating osteopathic principles and practices into the continuum of education.

Addressing the growing problems of stress, burnout and suicide that are the result of systemic issues affecting physicians today, the ACOI has created a task force on physician wellbeing that includes members, residents, and students. Its charge is to identify the problem and its sources, refer members to appropriate resources, and focus on fixing the causes of the problem in collaboration with other groups.

Strengthening the AOBIM and assuring that its credentials remain viable for all who already have them, as well as those completing training. The AOBIM, a separate organization from the ACOI, is currently managed by the AOA.
How You Can Continue to Make a Difference for the ACOI
If you are interested in making a tax deductible contribution, please click on this link.
The ACOI is offering a variety of ways that individuals can choose to support the campaign that will allow donors to participate with minimal impact on family and personal needs and goals.
Gifts can be made from retirement accounts, investment funds, family foundations, and donor advised funds. A number of the gifts highlighted below will benefit the ACOI and offer some possible tax savings to the donor, depending on their age and tax status. The ACOI is offering these examples and scenarios for informational purposes only, not as tax advice. We encourage individuals to seek tax advice specific to their personal situation from their financial advisors. Our campaign counsel is happy to work with members and their advisors on the best ways of making a current gift.
Ways of Giving
Outright Gift
Making a charitable contribution can help reduce the amount of federal income tax you need to pay to the IRS. The higher the tax bracket the greater tax savings an individual receives from his/her charitable giving.
Example:
A $25,000 gift would actually cost the donor $16,750 (a tax savings of $8,250 for someone in the 33% tax bracket).
Multi-Year Commitment
Donors find that they can contribute larger gifts if they make a pledge payable on an annual, quarterly, or monthly basis.
Example:
A monthly gift of $83.33 for 12 months equals a $1000 gift.
Appreciated Publicly-Traded Stock
A gift of stocks or bonds held more than a year that has grown in value, not only qualifies for a charitable contribution deduction (based on the fair market value), but also avoids capital gains tax on the appreciated portion of the gift.
A Portion of Your Required Minimum Distribution from Your IRA (for those 70 ½ or older)
Required minimum distributions from an Individual Retirement Account (IRA) are treated as income and so you must pay income taxes on them. By donating a portion or all of your minimum distribution, you will not have to take the required amount as income and pay taxes on it. Instead, you can have any amount you want – up to $100,000 – paid to ACOI by making a Qualified Charitable Distribution.
This type of gift does not qualify for a tax deduction for a charitable gift; rather you realize a savings in income taxes since you did not receive this distribution as income. In addition, the amount you have paid to ACOI will count toward the required minimum distribution that by law you must receive from your IRA beginning at 70 ½ years of age. For many who want to help ACOI, this is a win-win scenario, but planning is important. You should let us know if you want to help in this way because you need to notify your IRA administrator at least six weeks in advance and before you take your distribution.
Some possible scenarios for supporting ACOI's Plan for the Future:
For Retirees
Outright gift or multi-year pledge
A portion or all of your required minimum distribution (for those 70 ½ years of age)
Gift of appreciated publicly-traded stock
For Those Who Have Been in the Profession for Many Years and Are Still Working
Outright gift or multi-year pledge
Gift of appreciated publicly-traded stock
For Those Who Are Newer to the Profession
Become a monthly donor to fulfill an outright gift or multi-year pledge
Gift of appreciated publicly-traded stock
Donor Recognition
Special recognition will be given to donors who contribute $1000 or more in ACOI print/electronic materials, on the ACOI website, with an autographed copy of the 75th Anniversary History Book, and be honored on the 75th Anniversary Circle Tree or Donor Wall of Honor in the ACOI office.
Major donors will also be recognized in the following manner:

$100,000 (All recognition below plus):
Naming an appropriate space in ACOI Office
Award named in his/her honor to benefit ACOI presented at the President's Reception at the Annual Convention
$75,000 (All recognition below plus):
Naming an appropriate space in ACOI Office
$50,000 (All recognition below plus):
Receive an award at the President's Reception at the Annual Convention
$25,000 (All recognition below plus):
Photo and text on rolling screen at Annual Convention
Name and photo will appear on Donor Wall of Honor at the ACOI Office
Receive a crystal commemorative piece for home or office
$15,000 (All recognition below plus):
Offered opportunity to do a Visiting Professor session
$10,000 (All recognition below plus):
Name will appear on Donor Wall of Honor at the ACOI Office
Receive commemorative plaque for home or office
Recognized at Fellows Convocation at convention
---
Securing ACOI's Future through a Legacy Gift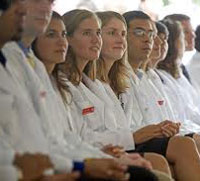 The most popular way generous people help the American College of Osteopathic Internists is with an outright gift of cash or stock. However, some find that they can also help by making a legacy gift which is a wise investment for securing the College's future. It enables ACOI to plan long-term for strategic activities such as developing new initiatives critical to osteopathic internal medicine, creating more educational and training programs, and expanding outreach programs. With a secure financial base, ACOI can be more innovative and creative in cultivating new frontiers and serving the needs of its members.
A legacy gift can even be designed to obtain current income and estate tax advantages. It can also provide income to you or your loved ones for life. Although many complex options are available, there are simple options easily created through estate planning vehicles.
A donor may never see his/her legacy gift bear fruit, but he/she will know that the legacy, along with his values and beliefs, will have an impact on future generations. Through legacy giving, ACOI's mission and vision are strengthened, regardless of the challenges that may lie ahead.
To recognize and honor ACOI leaders and members who include ACOI in their will or estate plans, the Legacy Society was created. These legacy donors are giving back to ACOI while at the same time helping to secure the College's future.
ACOI Wishes to Thank and Recognize the
Legacy Society's Charter Members
(as of June 30, 2018)
Dr. Jack and Jocelyn Bragg
Dr. John and Dr. Michelle Bulger
Dr. Mathew and Marbree Hardee
Dr. David and Rita Hitzeman
Dr. Robert and Donna Juhasz
Dr. Karen and Jim Nichols
Dr. Eugene and Elena Oliveri
Dr. Frederick and Amy Schaller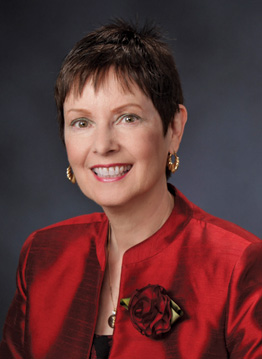 "ACOI support was there for me as my practice grew and is there for me now as my teaching and work as a Dean unfolds. To keep programs that support the education and training of osteopathic internists, medical students and residents strong, and to provide for future programs that will shape ACOI for new members, bequest provisions or other estate plan gifts will insure that financial support will be there for our future. I'm glad that when we were drafting our estate plan Jim and I included a provision for ACOI, and hope that every member will consider joining us in doing so."
- Karen J. Nichols, DO, MA, MACOI

"As a Past President of ACOI, I knew firsthand what the College did for the members. I could see that osteopathic internal medicine had a bright future. Including ACOI in my will allowed me to demonstrate my commitment to the College and its financial security. My annual gifts to the Generational Advancement Fund help ACOI provide support to medical students and residents, which help to advance the next generation of osteopathic internists."
– Jack D. Bragg, DO, FACOI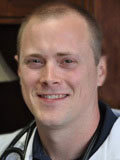 " I know I am considerably younger than others who have included ACOI in their will. Since I was just starting my career, it was my wife who felt we should take advantage of an estate-planning program that ACOI was providing to its members. We wanted to make good financial decisions from the start, and getting free advice seemed like a good way to start. At some point during the process, we were asked if we would consider including ACOI in my will. My wife and I said yes because of what the College has done for me."
– Matthew R. Hardee, DO, FACOI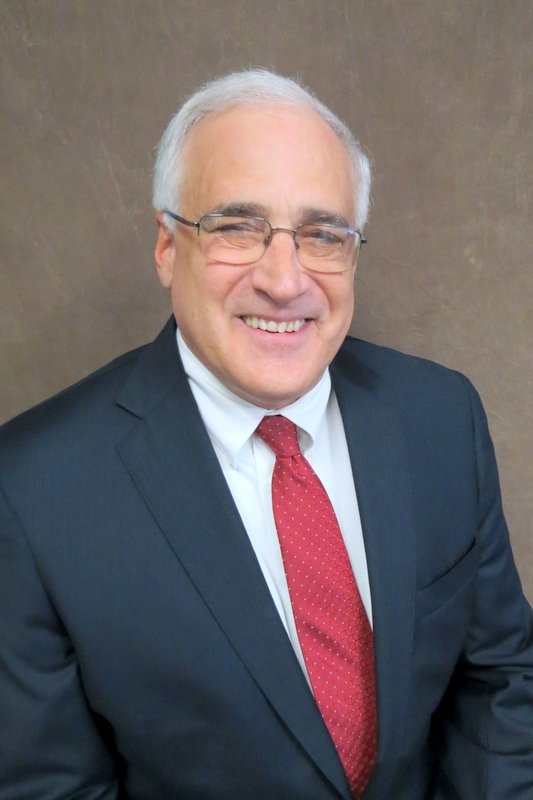 "I was on the ACOI Board when the College first promoted planned gifts. My wife and I took advantage of the services that the College offered and created our estate plan. We continue to work with a financial advisor that we met at that time. As a board member, I saw what the College would need in the future to maintain and grow. I saw making a planned gift to help secure ACOI's future as a way to give back to the profession in addition to my teaching, speaking, and committee involvement."
- David F. Hitzeman, DO, MACOI
Types of Planned Gifts to Consider
Bequest
By naming the College in your will you can give general support or name a specific program or service you want to help. Most people provide a percentage of what's left after they have made provision for their family. A fixed dollar amount can be mentioned as well, but some find that a percentage is easier and doesn't need to be reviewed as time goes by.
For those who might be interested in including ACOI in their wills or estate plans, here is the official language to use:
"I give, devise, and bequeath to the American College of Osteopathic Internists, a tax-exempt organization, located at 11400 Rockville Pike, Suite 801, Rockville, Maryland 20852, the sum of $__________ or percentage of (cash, real or personal property herein described) to be used for the specific purpose of ________________ or general purpose of the American College of Osteopathic Internists at the discretion of its board of directors.
Charitable Gift Annuity
By establishing this special gift arrangement, often called the gift that gives back, donors receive a generous tax deduction and get money back for themselves or for themselves and one other (usually a spouse) at an attractive interest rate for their entire life. You can ask for a confidential personalized illustration of how this can work for you, particularly now with low-paying CDs and low interest rates. For younger ACOI members, establishing a deferred gift annuity can provide supplemental retirement funds in the future.
Retirement Plan Proceeds
By naming ACOI the recipient of retirement plan proceeds many can avoid negative estate tax consequences while helping others and providing heirs with other less-taxed assets. You can ask ACOI to see if this can reduce your estate tax liability.
Charitable Trusts
By establishing one of several different types of trusts with either fixed or variable payments, savvy ACOI donors dramatically reduce their estate taxes, avoid probate, shelter funds for themselves and their family and receive a generous tax deduction. Ask ACOI how and for a confidential personalized financial illustration that will be tailored to your unique situation or needs.
Real Estate, Homes or Vacation Property
By donating a house or property you no longer need, you will receive a generous tax deduction based on its full market value. By keeping the right to live in your home for life or until you no longer need it, you can stay in it and receive a generous tax deduction. Ask ACOI to show you how this can work for you.
Life Insurance
Many people have insurance policies they no longer need. By making ACOI the owner and beneficiary, you will receive an immediate tax deduction and the joy of knowing that what once gave you and your family peace of mind will now help others. Ask ACOI how this can work for you.
Our staff and planned giving counsel are ready to provide confidential information on ways you can help yourself and your family, while making gifts that will go on to help ACOI and others. For more information or to schedule a consultation with our planned giving counsel, call Brian Donadio, FACOI, at 301-231-8877 or email him at bjd@ACOI.org with any questions you might have.
For more information on the various types of planned gifts, please contact Katie Allen (katie@acoi.org) to order copies of various gift planning pamphlets now available: Gifts of Securities; Your Will to Help; The Gift Annuity; Ideas for Retirement; A Special Beneficiary; Art of Gift Planning; When the Time Comes; Your IRA Legacy; Remarkable Unitrusts; Bequeath Your Values; Planning for Women.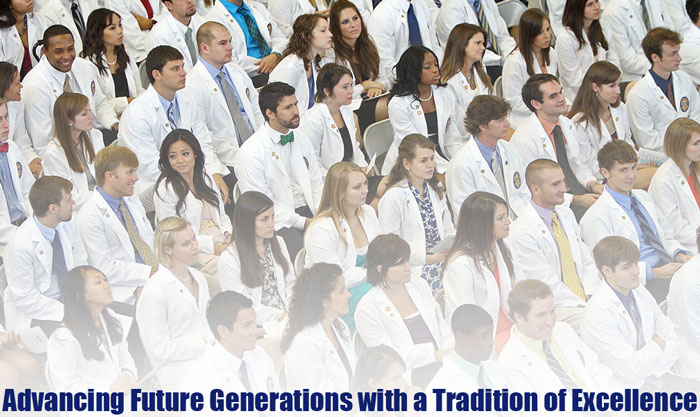 In this time of great challenges in healthcare, the ACOI is poised to expand the profession's influence and assure that the best and brightest students select careers in osteopathic internal medicine.
Evidence mounts daily that the national demand for internists is growing. There is a strong need for highly-qualified primary care internists, hospitalists, and subspecialists. ACOI answers this need by reaching out to students who are not fully aware of the career opportunities in our specialty.
In order to continue and grow programs for students, residents, and fellows, financial support is needed for ACOI's Generational Advancement Fund. Contributions will be used for the following programs:
Visiting Professor Program to osteopathic college campuses to educate students about internal medicine and our subspecialties
Resident Textbook Program that provides textbooks for residents and students
Grants to Student Internal Medicine Clubs to attend ACOI's Annual Convention
Mentor Program that matches practicing physicians with students
Click here to make a gift online
Our Visiting Professor Program in Action
ACOI sponsored 18 Visiting Professor lectures during the 2017-2018 academic year, thanks in part to contributions from ACOI members!
Our thanks to our Visiting Professors for making the time to speak and train medical students about internal osteopathic medicine. The students appreciate ACOI helping to arrange these sessions. PCOM's SOIMA President Jonathan Stewart says "Dr. Carron's presentation was engaging, educational, and entertaining. It was a real pleasure having her come and speak to us all."
Here are a few recent Visiting Professor sessions held: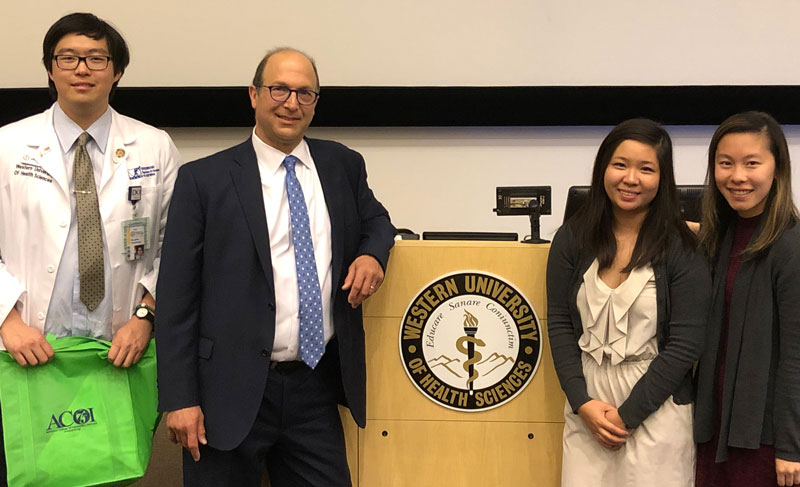 Keith Reich, DO, FACOI at WesternU-COMP with Art Sukanthanag, SOIMA Vice President and Anna Tran and Sharon Zhu, Co-Presidents at WesternU-COMP
"Dr. Reich engaged the students actively, and presented about numerous topics including the general residency application process, his own path to IM, as well as a primer on how to deliver unfortunate news to patients. His presentation was quite diverse and useful, offering us new insights into medical practice as an internist from many different perspectives." - SOIMA Vice President Akaraphan "Art" Sukanthanag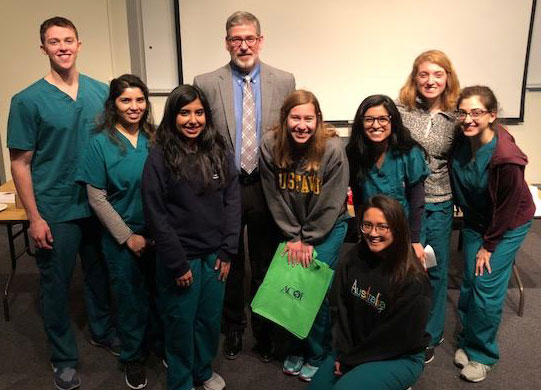 Visiting Professor Damon Baker, DO, FACOI with CCOM students: Thomas Pickett, Ayesha Mumtaz, Sareena Ali, Madeline Jentink, Maha Longi, Sarah DiBacco, Sally Nahhas and Claire-Marie Canda.
"Dr. Baker had a great presentation! The students were very curious and asked questions, which Dr. Baker answered thoroughly. I wish we would've had more time for a longer Q&A session, but it was easy to see that he is very passionate about his work." - SOIMA President Claire-Marie Canda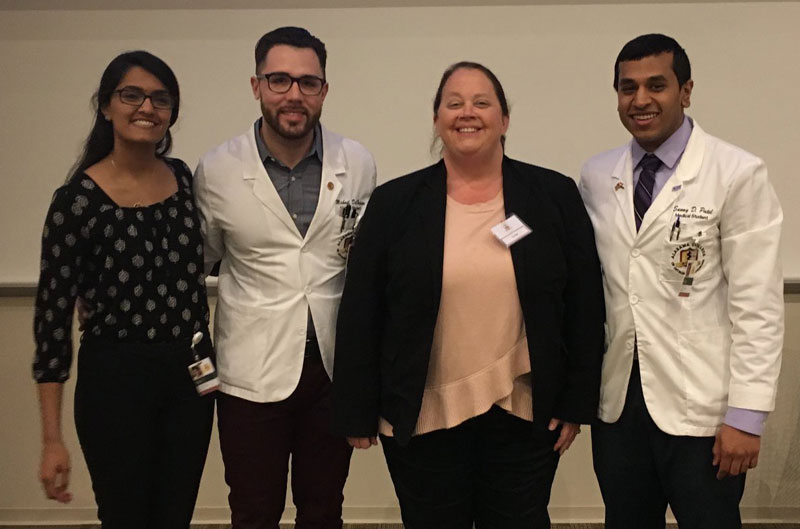 Annette Carron, DO, FACOI with student leaders at ACOM.
"Student president Sunny Patel says "We had a wonderful time listening to Dr. Carron share valuable information and answer our questions. We are so glad she was able to make time in her busy schedule to come visit us and thank you ACOI for organizing this event."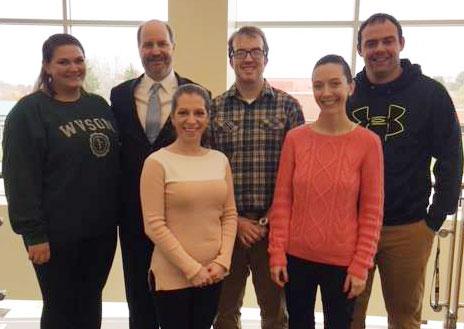 ACOI's President Martin C. Burke, DO, FACOI with student leaders at WVSOM. Over 100 students attended his Visiting Professor session.
Your Gift to the Generational Advancement Fund Makes a Difference
ACOI is committed to the future of a distinctive osteopathic practice of internal medicine and to strengthening and expanding our very successful generational advancement programs so that future generations can carry on our osteopathic traditions and practices. This commitment requires financial support over and above ACOI dues so we can continue to make a difference in providing high quality care to patients.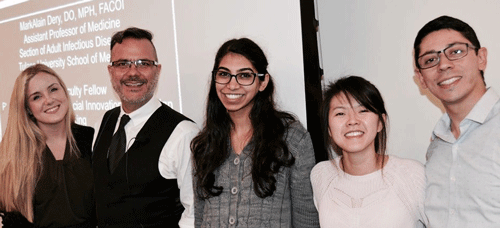 WesternU medical students host Dr. Dery via ACOI's Visiting Professor Program. Pictured L to R – Julia Minasian, Dr. Dery, Priya Patel, Joyce Hsiao, Byron Rastegari
Here is what Julia Minasian, SOIMA Club Vice-President at the time, said about ACOI's Visiting Professor Program:
"Overall, we have been very impressed with the program. Susan Stacy and Katie Allen at ACOI facilitate and make the process so easy. They are a big part of the reason why we as students can manage to plan such an event and really have such wonderful, insightful physicians visit our campus. The program allows us to see what is to come in our future, helps us understand the inner workings of IM, and exposes us to high quality physicians who are passionate about the field. They are inspired, original, and authentic speakers who have made their mark in their field and in their local communities in various ways.
ACOI member contributions help ensure that this legacy continues as we strive to emulate the success and compassion shown to us by our visiting professors. Hopefully, we will be able to give back to the program as we advance our careers and return to inspire, through education, those seeking the IM profession."
Why I Choose to Give to the ACOI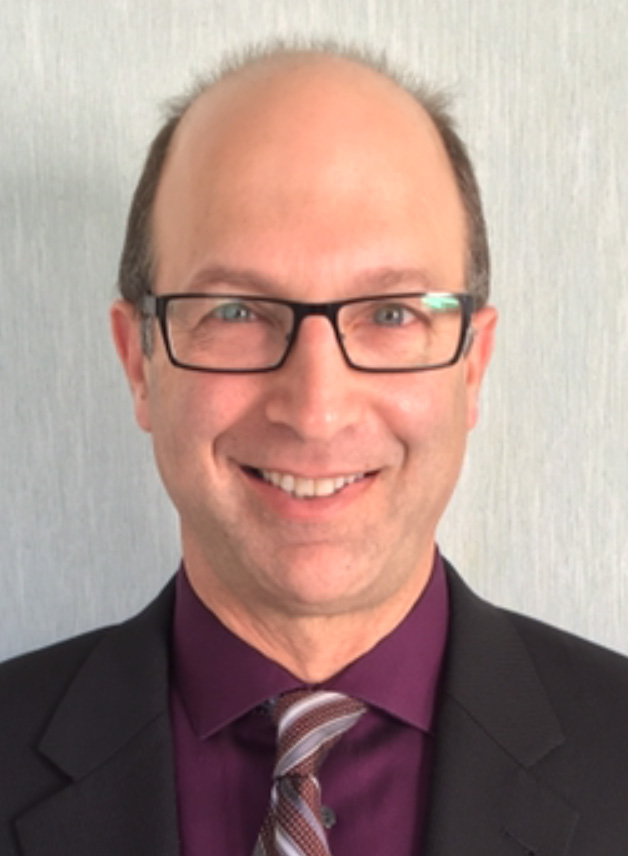 "I support the Generational Advancement Fund (GAF) because it reflects what is important to me – educating the next generation of osteopathic internists. Gifts to the GAF support textbook vouchers for students that attend the annual convention, provide funding to have more ACOI members participate in the Visiting Professor Program, and benefit students and residents. The Visiting Professor Program provides opportunities to promote the importance of the ACOI to potential new members." - Keith A. Reich, DO, FACOI, FACR, RhMSUS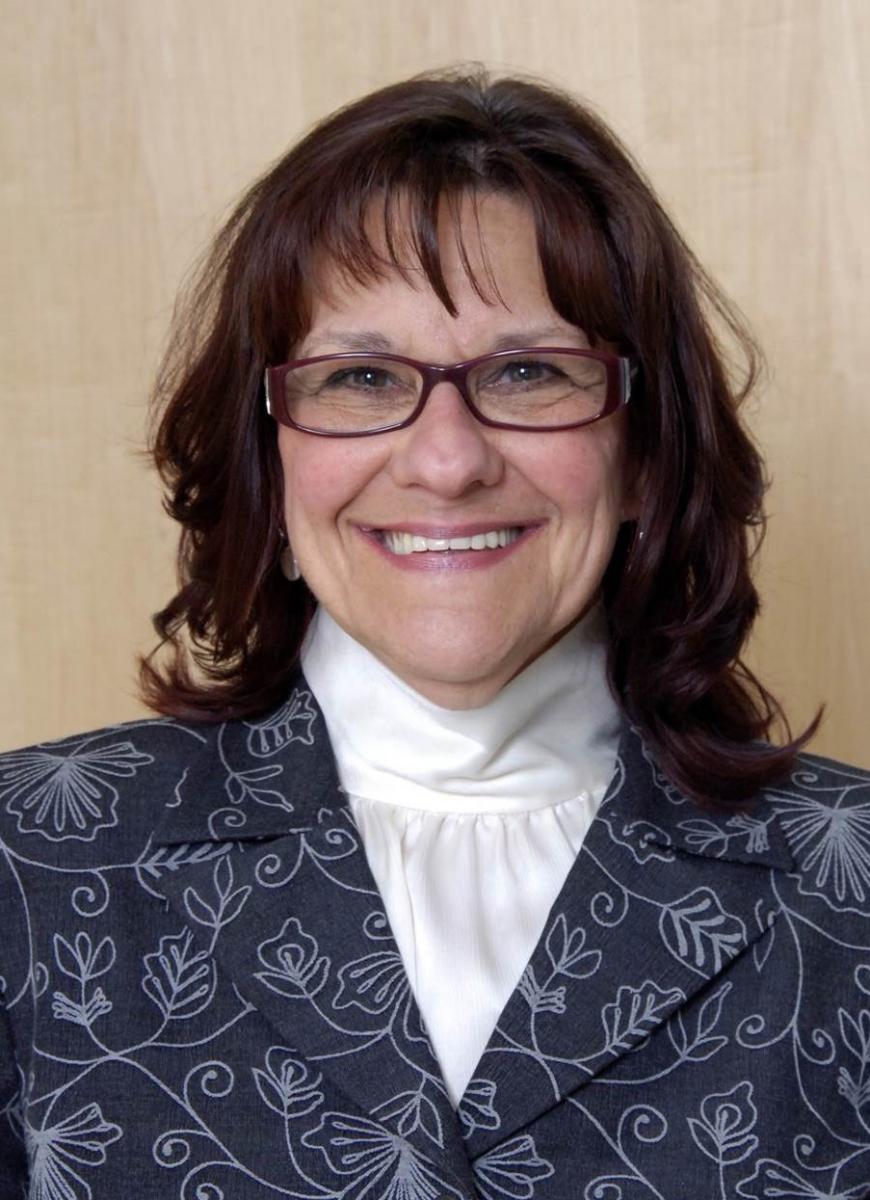 "I believe it is every members' responsibility to support the College in some way. It is important to show members where their contributions are being used. ACOI won't be able to grow and address the issues it faces in the future if it doesn't have the additional resources needed." - Pamela Gardner, DO, FACC, FACOI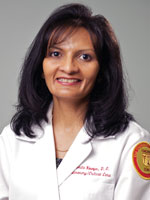 "I contribute to the ACOI because I want to give back. As for donating my speaker honoraria, it is because I so enjoy speaking and teaching that I don't see my honoraria as my compensation, but as another way to give back and help the ACOI do what it needs to do. I encourage ACOI members to get involved in the College because I think everyone can make a difference at the ACOI."
- Amita Vasoya, DO, FACOI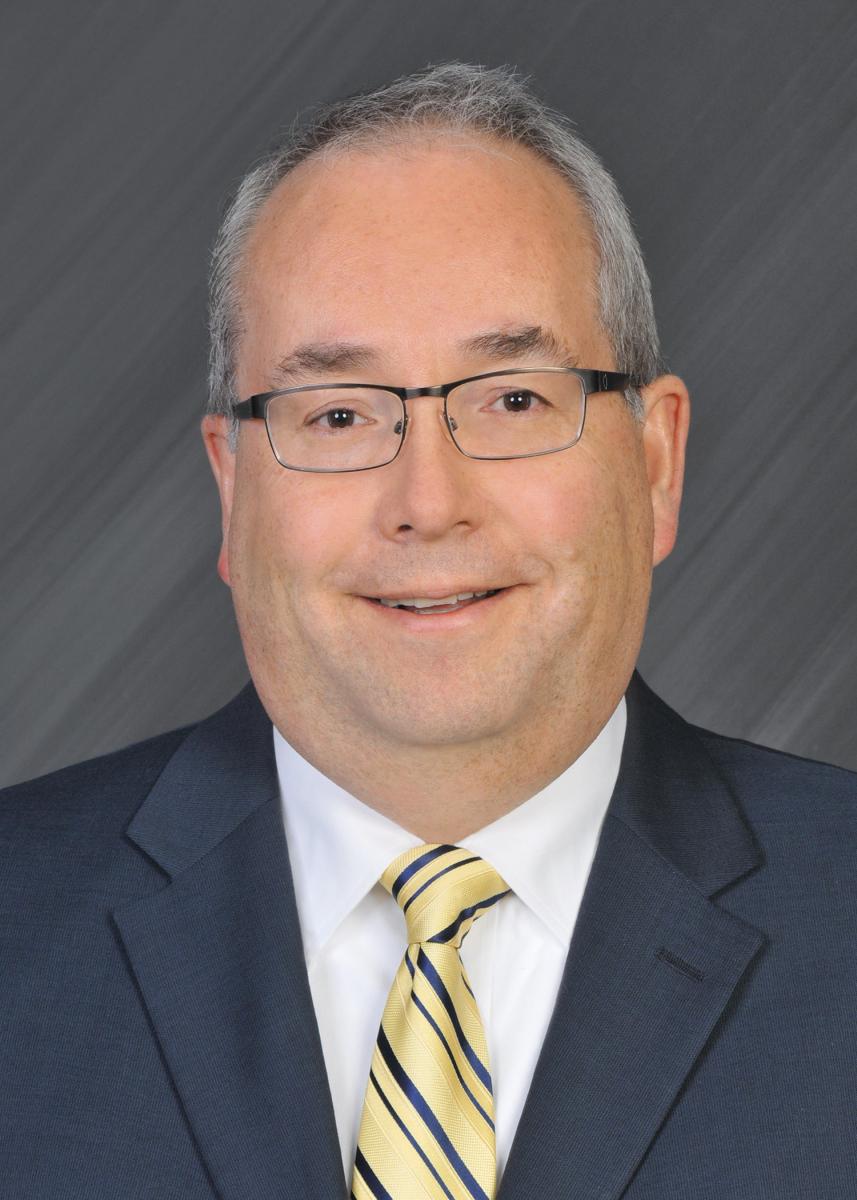 "I donate my speaker honorariums because I believe it complements my support of the ACOI with its future needs. I am passionate about the dynamics of health care and the need for an exchange of ideas and perspectives from other physicians. The ACOI is an ideal platform to accomplish this exchange. My hope is that my passion will affect other members of the College to continue this process." - Scott Spradlin, DO, FACOI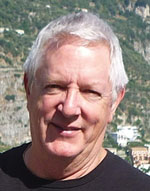 "My service to ACOI is my way of giving back to the profession. I wouldn't be where I am today without ACOI since it enabled me to follow paths not allowed in allopathic medicine. Over the years, I have had amazing opportunities to network with members of our profession who are experienced, approachable, and open to new ideas. My giving is another example of giving back. I choose to donate part of my speaker honorariums each year so that ACOI has additional funds to do what is needed." – Gerald W. Blackburn, DO, MACOI
Through Your Support, ACOI will be able to:
Help preserve a distinctive osteopathic practice of internal medicine for the future
Utilize latest technologies to provide high-quality, easily accessible, and inexpensive CME offerings for our members
Assist all of our programs to achieve ACGME accreditation and encourage and assist them to maintain their osteopathic focus
Integrate osteopathic principles and practices into the ACOI's educational programs, products and services
Expand the Visiting Professor Program to expose every osteopathic student to successful DO internist role models
Increase the amount of support available for students to attend the annual convention and scientific sessions so they can experience our premier meeting firsthand
Ways of Giving
There are a number of ways you can make a gift to the ACOI:
Click here to make a gift online.
Send a check to Katie Allen, ACOI, 11400 Rockville Pike, Suite 801, Rockville, MD 20852.
Add a contribution when renewing your annual dues.
Add a contribution when registering for the ACOI Annual Convention or other educational conferences.
For information on how to make a gift of stock, please contact Brian Donadio, Executive Director, at 301-231-8877 or via email at bjd@acoi.org.
Make a gift in honor or memory of a colleague, mentor, teacher, or someone who has been important to your career or personally. Be certain to include the complete name and address of the honoree or their next of kin so ACOI can inform them of your recognition. Click here.
Honor Roll of Donors (June 30, 2018)
Record Year for Contributions to ACOI!
The ACOI is most grateful to those members and others who contributed $100 or more in our last fiscal year. Donations are used to fund ACOI's plan for the future, to train and mentor osteopathic medical students and residents through the Visiting Professor Program, to offer vouchers in the Resident Textbook Program, and to provide financial assistance to student internal medicine clubs to attend the ACOI Convention. Contributions totaling $296,316 during our last fiscal year (July 1, 2017 – June 30, 2018) were received towards these efforts.(Please note: this list does not include hundreds of members who contributed less than $100.)
Emilia Adah, DO
Raymond Adelizzi, DO, FACOI
Michael Adornetto, DO, MBA, FACOI
Gary Agia, DO, FACOI
Muhammad Alam, DO
Jeremy Anclam, DO
Barbara Atkinson, DO, FACOI
Jennifer Auxier, D.O.
Alan Awdisho, D.O.
Mary Schaefer Badger, DO, FACOI
Joanne Baker, DO, FACOI
Mark Baldwin, DO, FACOI
Eric Barnes, DO
Timothy Barreiro, DO, FACOI
Rodney Bates, DO, FACOI
Amanda Beckwith, DO
Jay Beckwith, DO, MACOI
Lee Peter Bee, DO, FACOI
Gerald Blackburn, DO, MACOI
Francis Blais, DO, FACOI
Michael Bojarski, DO, FACOI
Deborah Borowski, DO, FACOI
Natasha Bray, DO, FACOI
David Broder, DO, FACOI
Kindra Browning, DO
Jonathan Bryan, DO, FACOI
Paul Bryman, DO, FACOI
Diane Brzezinski, DO, FACOI
John Bulger, DO, MBA, FACOI
Robert Bulow, DO, FACOI
Joseph Burtch, DO
Boyd Buser, DO
Terry Bushnell, DO, FACOI
Jack Butler, DO, FACOI
Robert Cain, DO, FACOI
Kenneth Calabrese, DO, MACOI
Steven Calkin, DO, FACOI
Annette Carron, DO, FACOI
Jennifer Carson, DO
Thomas Cavalieri, DO, MACOI
Humayun Chaudhry, DO, MS, MACOI
Janet Cheek, DO, FACOI
David Chesner, D.O. FACOI
Julianne Childs, DO, FACOI
Leif Christiansen, DO
Barbara Ciconte,
John Clair, Sr., DO, FACOI
Michael Clearfield, DO, MACOI
James Clouse, DO, MACOI
Maria Cole, DO
Madison Collins, DO
Danielle Conahan, DO
David Condoluci, DO, MACOI
Timothy Conlon, DO, FACOI
Katherine Cook, DO, FACOI
Sharolyn Cook, DO, FACOI
James Cooper, DO, FACOI
Peter Correnti, Jr., DO, FACOI
Lawrence Cowsill, DO, FACOI
Gregory Cox, DO
John Cox, DO, MACOI
Jadwiga Czajkowska, DO, FACOI
Carmella D'Addezio, DO, FACOI
Margaret Davenport, DO, FACOI
MarkAlain Dery, DO, FACOI
Robert DiGiovanni, DO, FACOI
Santosh Doddamane, DO
Brian Donadio, FACOI, Exe. Director
Peter Drummond, DO
Carol Duffy, DO, FACOI
Michael Duffy, DO
Susan Duke, DO, FACOI
Tammy Durham-Boring, DO, FACOI
James Dwyer, DO, FACOI
Jozef Dzurilla, DO
Tara Eastin, DO
Susan Enright, DO, FACOI
Ira Epstein, DO, FACOI
Ann Marie Ernst, DO
Kelly Evans, DO, FACOI
Matthew Exline, MD
Andrew Friedman, DO, FACOI
Brian Fuller, DO, FACOI




Kevin Furey, DO, FACOI
Kenneth Gatto, DO
Raymond Geyer, DO
Scott Girard, DO, MBA, FACOI
James Giudice, DO, MACOI
Eric Good, DO, FACOI
Robert Good, DO, FACOI
Debora Goodrich, DO, FACOI
Kathleen Gordon, DO
Darrell Lynn Grace, DO
David Greathouse, DO, FACOI
Christian Greco, DO
Rick Greco, DO, FACOI
James Groff, DO, MACOI
Jeffrey Hananel, DO, FACOI
Duane Harclerode, DO, FACOI
Lawrence Haspel, DO, MACOI
Robert Hasty, DO, FACOI
Darin Haug, D.O. FACOI
James Heddleson, DO
Brian Helmstetter, DO
Karen Henrichsen, DO
Marc Herschelman, DO
David Hitzeman, DO, MACOI
Jennifer Hoppe-Hoffmann, DO
Carol Horner, DO, FACOI
Kevin Hubbard, DO, MACOI
Charles Hurwitz, DO, FACOI
Dory Jarzabkowski, DO, FACOI
Richard Jeffries, DO, FACOI
David Jenkins, DO
Gregory Johnson, DO, FACOI
Vance Johnson,
Sonnora Johnson-Reed, DO, FACOI
Robert Juhasz, DO, FACOI
Joshua June, DO
Joanne Kaiser-Smith, DO, FACOI
Grace Kao, DO
Mark Karabajakian, DO
Michael Keefe, DO, MACOI
Marc Kesselman, DO, FACOI, FACC
Teresa Kilgore, DO, FACOI
Carol Kirila, DO, FACOI
Steven Klein, DO, FACOI
Steven Koerner, DO, FACOI
Andrew Kotis, DO, FACOI
Bonita Krempel-Portier, DO, FACOI
Peter Krenitsky, D.O. FACOI
Paul Kudelko, DO, MACOI
Irene Kuizon, DO
Nathan Landesman, DO, FACOI
Mark Larey, DO, FACOI
Leslie Latterman, DO, FACOI
Danny Le, DO
Khoa Le, DO
C. Michael Lewis, DO, FACOI
Judith Lightfoot, DO, FACOI
Sara Liter-Kuester, DO, FACOI
Timothy Logan, D.O. FACOI
John Lowney, D.O. FACOI
Mary Macgregor, DO, FACOI
Sandy Macnab,
Mohan Madala, MD
Amir Malik, MD
Michael Mann, DO, FACOI
Theresa Matzura, DO, FACOI
Charles Maxvill, DO
Jay McDougal, DO
Timothy McNichol,
Michael Menolasino, III, DO, FACOI
Nathan Miller, DO, FACOI
Paul Miller, DO, FACOI
Wayne Miller, DO, FACOI
C. Clark Milton, DO, FACOI
Andrew Morrison, DO
Susan Moster, DO, FACOI
Joseph Namey, Jr., DO, MACOI
Lorraine Neilson, DO, FACOI
Veronica Newsome, DO, FACOI
Chidao Nguyen, D.O.
Hanh Nguyen, D.O.
Glenn Niegas, DO
Kabir Noor, DO
Susan O'Neal, DO, FACOI



Eugene Oliveri, DO, MACOI
Michael Opipari, DO, MACOI
Evelyn Parish, DO, FACOI
Joanna Pease, DO, MACOI
Daniel Peasley, DO, FACOI
William Peppo, DO, FACOI
Daniel Peshka, DO
Claudia Petruncio, DO, FACOI
Edward Polashenski, DO, FACOI
Alice Premaza-Mueller, DO
John Prior, DO, FACOI
Bennett Radford, DO, FACOI
Jeffery Ranalli, DO
Christine Rattin, DO, FACOI
Sudhakar Reddy, MD
Keith Reich, DO, FACOI
Morvarid Rezaie, DO, FACOI
Felix Rogers, DO, FACOI
Lisa Rogers, DO
Laura Rosch, DO, FACOI
Leonard Rosenfeld, DO, FACOI
Benjamin Rossi, DO, FACOI
Jeffrey Rossi, DO
Larry Rothstein, DO, FACOI
Alice Ruttinger, DO, FACOI
Karen Samples, DO, FACOI
Kiran Saraiya, DO, FACOI
Kristine Schmiesing, DO
Thomas Schneider, DO, FACOI
Martin Schwarze, DO, MACOI
Cynthia Serabyn, DO
Arpit Shah, DO
Vishvinder Sharma, MD
Suzanne Shenk, DO, FACOI
Daniel Sheps, DO, FACOI
TianChu Shih, DO
Scott Siegal, DO, FACOI
Gary Silverman, DO, FACOI
Timothy Slaven, DO, FACOI
Michael Slavin, DO, FACOI
Carl Smoot, DO, FACOI
Jason Sniffen, D.O. FACOI
Jack Snitzer, DO, FACOI
Samuel Snyder, DO, FACOI
Alfred Sorbello, DO, FACOI, MPH
Duane Sossong, DO
Scott Spradlin, DO, FACOI
David Stainbrook, Jr., DO, FACOI
Christina Stasiuk, DO, FACOI
Samuel Stever, DO, FACOI
W.W. Stoever, DO, MACOI
Robert Stomel, DO, MACOI
William Strampel, DO, MACOI
Edward Strauss, DO, FACOI
Bonny Strohman, DO
John Sutton, DO, FACOI
Mia Taormina, DO, FACOI
Ana Tejero, DO
Ruben Tenorio, D.O. FACOI
Kristine Teodori, DO
Senthil Thambidorai, MD
Nguyen Tran, DO
Kenneth Trinidad, D.O.
Monte Troutman, DO, FACOI
Gordon Tussing, Jr., DO
Mark Twardowski, DO, FACOI
Christopher Unrein, DO, FACOI
Wilfred VanderRoest, DO, FACOI
Amita Vasoya, DO, FACOI
William Voss, DO, MACOI
Keith Waddle, DO, FACOI
Thomas Waltz, DO, FACOI
John Ward, DO
Tuan Ward, DO
James Wells, DO, PhD, FACOI
Marvin Wells, DO, FACOI
R. Colin Wetz, DO
Daniel Wildes, Jr., DO, FACOI
Gerald Williams, DO, FACOI
Marcia Williams-Lyons, DO
Kevin Wilson, DO, FACOI
Mark Woodard, DO FACOI
Randal Worth, DO, FACOI
Douglas Zakolski, DO
William Zipperer, Jr., DO, FACOI