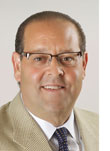 "I am happy to dedicate my time to the ACOI as a member of the Board of Directors because I believe ACOI best represents my practice and benefits my patients. My professional and personal goals align most closely with the College. I took on the role of Development Committee Chair because I believe, as we transition from a GME to CME organization, it is very important that the ACOI become stronger for the next generation of internists. Young internists should understand the need for funding the College's mission and values which benefits all our members' practices and, most importantly, their patients. I see the Development Committee helping to get those messages out to long-time and new ACOI members.
I chose to make a major gift to the 75th Anniversary Campaign because of my deep belief and involvement in ACOI. I would say that the College is the best steward of the funds we contribute. We all contribute to other institutions and organizations but there is no doubt in my mind that ACOI uses our contributions to fund current and future initiatives that will benefit our family of osteopathic internists. That's why I appeal to our members to join me in supporting the ACOI today."
- Robert L. DiGiovanni, DO, FACOI, ACOI Board Member and Chair, ACOI Development Committee
---
The ACOI's Sustainers Club is growing!
The College is pleased to welcome and recognize
the following members of our new Sustainers Club:
Lee Peter Bee, DO, FACOI
Robert A. Cain, DO, FACOI
Janet Cheek, DO, FACOI
David J. Mohlman, DO, FACOI
Jeffrey Packer, DO, FACOI
Laura Rosch, DO, FACOI
Christine and Nathan Samsa, DOs, FACOIs
Samuel Snyder, DO, FACOI
BECOME A MEMBER OF THE NEW ACOI SUSTAINERS CLUB


Help the College Better Plan for Its Future!
Sustainer Club Members are monthly donors who:
give by credit card

arrange a monthly debit from a bank account, or

send a check
Benefits of being a Sustainer Club member include:
Invitations to donor events at ACOI meetings

Special update communications from ACOI leaders twice a year

Special recognition as Sustainers Club members in ACOI publications and the website
Remember, your gift is tax-deductible to the full extent allowed by law. Sign Up Today by clicking this link and checking the monthly gift box to make a credit card contribution.
---

"As an osteopathic internist and ACOI leader, commitment to our organization is important. The ACOI needs a strong infrastructure financially to be able to support its mission. I am passionate about being an Osteopathic Internist, therefore, it is natural and credible for me to support this organization with my time and finances.
As for encouraging others to join me by providing additional financial support to ACOI, I would say with the changing landscape in medicine, it is good to have a reputable organization like the ACOI representing us in Washington, DC, offering excellent CME programs, and being there to assist with any needs of the practicing Osteopathic Internist. The College truly serves as the guardian of the osteopathic internal medicine profession." - Laura Rosch, DO, FACOI
---

"We feel it is important to support the ACOI so that the College has the resources to continue providing the programs and services that ACOI members need. We are fortunate that our current income allows us to join many ACOI members in giving back to the College. With the merger of ACGME and AOA, we want to maintain our osteopathic recognition, which we feel is highly dependent on the support of ACOI members. As for continuing our support on a monthly basis as new members of the Sustainers Club, we find this to be an easy way to continue contributing regularly. Key to new and continued support is for ACOI to show how gifts are making a difference." - Nathan Samsa, DO, FACOI and Christine Samsa, DO, FACOI
---
Through Your Support, ACOI will be able to:
Help preserve a distinctive osteopathic practice of internal medicine for the future
Utilize latest technologies to provide high-quality, easily accessible, and inexpensive CME offerings for our members
Assist all of our programs to achieve ACGME accreditation and encourage and assist them to maintain their osteopathic focus
Integrate osteopathic principles and practices into the ACOI's educational programs, products and services
Expand the Visiting Professor Program to expose every osteopathic student to successful DO internist role models
Increase the amount of support available for students to attend the annual convention and scientific sessions so they can experience our premier meeting firsthand
---

"Financial Support of the ACOI is essential to ensure the continued progression of the College's mission "To advance Osteopathic Internal Medicine". With the rapid technological advances in Internal Medicine, our Osteopathic heritage MUST be interfaced, as technology cannot treat our patients without human/osteopathic Input.
The ACOI is in an exceptional position to advance medical knowledge, professionalism, patient care, and physician excellence. Osteopathic Internists can serve this mission and our patients by involvement in the ACOI committee structure sharing knowledge, professionalism and service.
I have chosen to support the ACOI and the 75th Anniversary Campaign with a commitment of time and, of course, financial support. I hope others will recognize the need for involvement both financially and academically as medicine and science progress with rapid acceleration."
- C. Clark Milton, DO, FACOI
---
"I am very pleased that ACOI members responded so positively and generously to the College's first-ever fundraising campaign. Due to our generous support, the ACOI will have the funds to accomplish an ambitious plan to advance and preserve osteopathic internal medicine. My thanks to our donors for seeing their financial investment in our future as a part of their legacy as an osteopathic internist."

Larry Haspel, DO, MACOI, Campaign Chair
The ACOI is especially grateful to Larry Haspel, who served as Campaign Chair, Marty Burke, Campaign Vice-Chair and the members of the 75th Anniversary Campaign Committee listed below for their generosity and leadership that helped insure the success of the College's first-ever comprehensive fundraising campaign.
Campaign Committee members included the following:
Jack Bragg, DO, MACOI (Past President 2011-2012)
John Bulger, DO, MBA, FACOI (Immediate Past President)
Mike Clearfield, DO, MACOI (Past President 2009-2010)
Rob DiGiovanni, DO, FACOI (Current ACOI Board member)
Bob Good, DO, MACOI (Past President 2012-2013)
Rick Greco, DO, MACOI (Past President 2013-2014)
David Hitzeman, DO, MACOI (Past ACOI Board member)
Kevin Hubbard, DO, MACOI (Past President 2007-2008)
Judy Lightfoot, DO, FACOI (Past President 2014-2015)
Karen Nichols, DO, MA, MACOI (Past President 2000-2001)
Tony Ottaviani, DO, MS, MACOI (Past President 1998-1999)
Rick Schaller, DO, MACOI (Past President 2005-2006)
Scott Spradlin, DO, FACOI
Robert Stomel, DO, MACOI (Past President 2002-2003)
John Uslick, DO, MACOI (Past President 1999-2000)
Larry Wickless, DO, MACOI (Past President 1990-1991)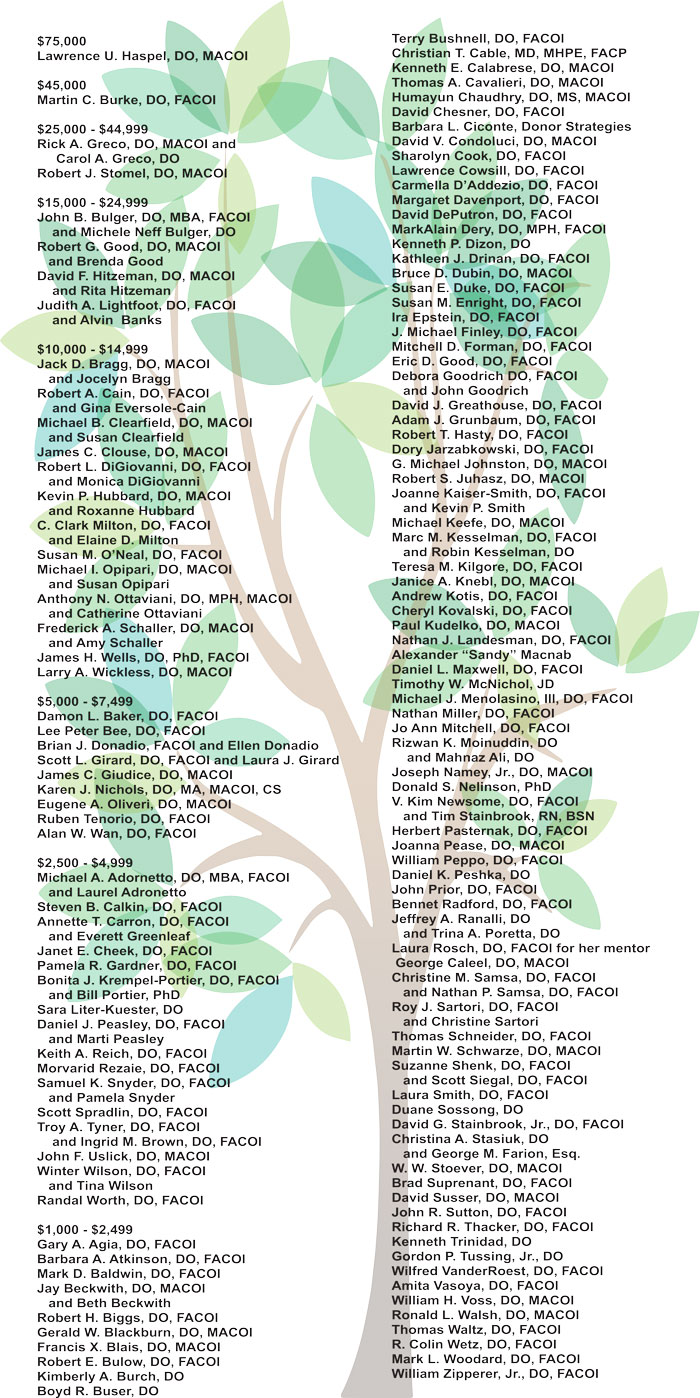 ---

"I choose to give to the ACOI in support of the
College and its mission to enhance the careers
of all osteopathic internists in their career as
they serve and dedicate their lives to their communities."
- Alan Wan, DO, FACOI
---
Implementing ACOI's Plan for the Future
We are now accredited by the ACCME to be a provider of CME that qualifies for both AOA and AMA credit, and meets the recertification requirements of both the AOBIM and the ABIM.

ACOI is utilizing the funds raised for the 75th Anniversary Campaign to create a home for those who believe in the patient-centered, osteopathic approach to healthcare that we call Principle-Centered Medicine. Our promise to members is to help you stay true to why you entered medicine.

The College is transforming from a Graduate Medical Education and Continuing Medical Education organization to a Professional Services Organization.

We have created a community of learning through the enhanced use of technology. Our new ACOI Online Learning Center allows the College to offer CME when, where and how our members need it.

The ACOI will continue to emphasize the distinctive osteopathic approach that is both beneficial to patients and valued by them in all our continuing medical education offerings.

The ACOI continues to provide hands-on assistance to residency programs as they seek allopathic accreditation, and to encourage them to secure Osteopathic Recognition as they make the transition. This will assure that the distinctive osteopathic philosophy imbued in students during their medical school years will continue during residency. It is gratifying that virtually all of the ACOI internal medicine programs that have been reviewed by the ACGME have been granted initial accreditation.

Working collaboratively with other organizations that would further the ACOI's promotion of high-quality, patient care has resulted in ACOI securing an ex officio seat on the ACGME Residency Review Committee for Internal Medicine, as well as full participation in the Internal Medicine Education Advisory Board. These interactions provide the ACOI with powerful new partners and allies and afford the College the opportunity to continue to influence internal medicine residency training beyond the transition.

A task force has been formed to develop and communicate a plan for integrating osteopathic principles and practices into the College's programs, products and services. The recently-completed 2019 ACOI Member Survey revealed that almost half of members use OMM at least some of the time in their practices. The ACOI Board recognizes that, while not defining osteopathic care, manual medicine should be a meaningful part of the discussion about osteopathic distinctiveness. The task force is developing practical mechanisms for integrating osteopathic principles and practices into the continuum of education.

To address the growing problems of stress, burnout and suicide that are the result of systemic issues affecting physicians today, the ACOI has created a task force on physician wellbeing that includes members, residents, and students. Its charge is to identify the problem and its sources, refer members to appropriate resources, and focus on fixing the causes of the problem in collaboration with other groups.

Strengthening the AOBIM and assuring that its credentials remain viable for all who already have them, as well as those completing training. The AOBIM, a separate organization from the ACOI, is currently managed by the AOA.
---

"I felt it was a privilege to speak at the 2018 Convention so was happy to donate my honorarium. I want the ACOI to continue and know that additional resources are needed. I don't want it to lose its identity. It was fascinating reading the 75th Anniversary History Book that Kevin Hubbard, DO, MACOI wrote, learning about A.T. Still and others. I encourage others to support the College financially so that the traditions of osteopathic internal medicine can be preserved."
- Christian T. Cable, MD, MHPE, FACP
---
---
Securing ACOI's Future through a Legacy Gift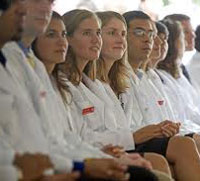 The most popular way generous people help the American College of Osteopathic Internists is with an outright gift of cash or stock. However, some find that they can also help by making a legacy gift which is a wise investment for securing the College's future. It enables ACOI to plan long-term for strategic activities such as developing new initiatives critical to osteopathic internal medicine, creating more educational and training programs, and expanding outreach programs. With a secure financial base, ACOI can be more innovative and creative in cultivating new frontiers and serving the needs of its members.
A legacy gift can even be designed to obtain current income and estate tax advantages. It can also provide income to you or your loved ones for life. Although many complex options are available, there are simple options easily created through estate planning vehicles.
A donor may never see his/her legacy gift bear fruit, but he/she will know that the legacy, along with his values and beliefs, will have an impact on future generations. Through legacy giving, ACOI's mission and vision are strengthened, regardless of the challenges that may lie ahead.
To recognize and honor ACOI leaders and members who include ACOI in their will or estate plans, the Legacy Society was created. These legacy donors are giving back to ACOI while at the same time helping to secure the College's future.
---
ACOI Wishes to Thank and Recognize the
Legacy Society's Charter Members
Dr. Jack and Jocelyn Bragg
Dr. John and Dr. Michelle Bulger
Dr. Mathew and Marbree Hardee
Dr. David and Rita Hitzeman
Dr. Robert and Donna Juhasz
Dr. Karen and Jim Nichols
Dr. Eugene and Elena Oliveri
Dr. Frederick and Amy Schaller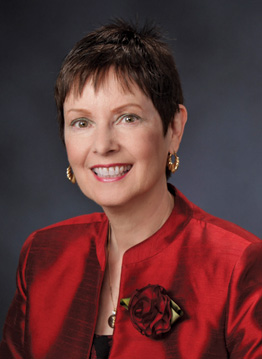 "ACOI support was there for me as my practice grew and is there for me now as my teaching and work as a Dean unfolds. To keep programs that support the education and training of osteopathic internists, medical students and residents strong, and to provide for future programs that will shape ACOI for new members, bequest provisions or other estate plan gifts will insure that financial support will be there for our future. I'm glad that when we were drafting our estate plan Jim and I included a provision for ACOI, and hope that every member will consider joining us in doing so."
- Karen J. Nichols, DO, MA, MACOI

"As a Past President of ACOI, I knew firsthand what the College did for the members. I could see that osteopathic internal medicine had a bright future. Including ACOI in my will allowed me to demonstrate my commitment to the College and its financial security. My annual gifts to the Generational Advancement Fund help ACOI provide support to medical students and residents, which help to advance the next generation of osteopathic internists."
– Jack D. Bragg, DO, FACOI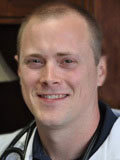 " I know I am considerably younger than others who have included ACOI in their will. Since I was just starting my career, it was my wife who felt we should take advantage of an estate-planning program that ACOI was providing to its members. We wanted to make good financial decisions from the start, and getting free advice seemed like a good way to start. At some point during the process, we were asked if we would consider including ACOI in my will. My wife and I said yes because of what the College has done for me."
– Matthew R. Hardee, DO, FACOI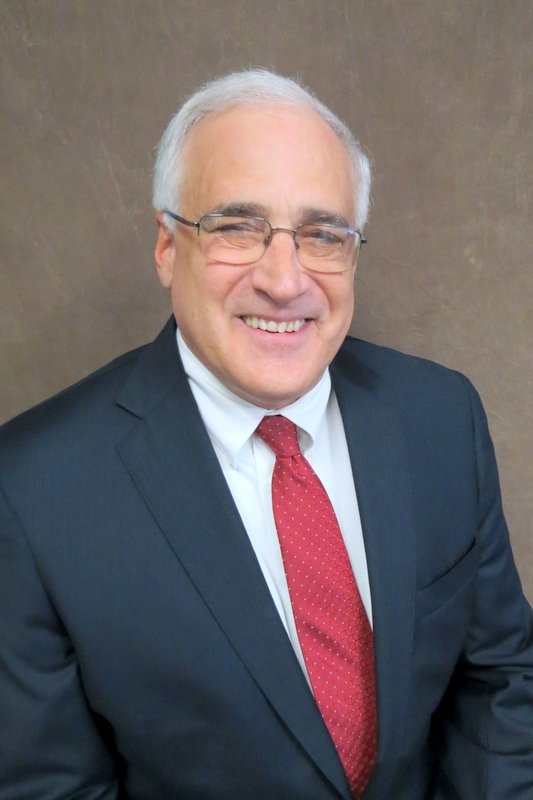 "I was on the ACOI Board when the College first promoted planned gifts. My wife and I took advantage of the services that the College offered and created our estate plan. We continue to work with a financial advisor that we met at that time. As a board member, I saw what the College would need in the future to maintain and grow. I saw making a planned gift to help secure ACOI's future as a way to give back to the profession in addition to my teaching, speaking, and committee involvement."
- David F. Hitzeman, DO, MACOI
Types of Planned Gifts to Consider
Bequest
By naming the College in your will you can give general support or name a specific program or service you want to help. Most people provide a percentage of what's left after they have made provision for their family. A fixed dollar amount can be mentioned as well, but some find that a percentage is easier and doesn't need to be reviewed as time goes by.
For those who might be interested in including ACOI in their wills or estate plans, here is the official language to use:
"I give, devise, and bequeath to the American College of Osteopathic Internists, a tax-exempt organization, located at 11400 Rockville Pike, Suite 801, Rockville, Maryland 20852, the sum of $__________ or percentage of (cash, real or personal property herein described) to be used for the specific purpose of ________________ or general purpose of the American College of Osteopathic Internists at the discretion of its board of directors.
Charitable Gift Annuity
By establishing this special gift arrangement, often called the gift that gives back, donors receive a generous tax deduction and get money back for themselves or for themselves and one other (usually a spouse) at an attractive interest rate for their entire life. You can ask for a confidential personalized illustration of how this can work for you, particularly now with low-paying CDs and low interest rates. For younger ACOI members, establishing a deferred gift annuity can provide supplemental retirement funds in the future.
Retirement Plan Proceeds
By naming ACOI the recipient of retirement plan proceeds many can avoid negative estate tax consequences while helping others and providing heirs with other less-taxed assets. You can ask ACOI to see if this can reduce your estate tax liability.
Charitable Trusts
By establishing one of several different types of trusts with either fixed or variable payments, savvy ACOI donors dramatically reduce their estate taxes, avoid probate, shelter funds for themselves and their family and receive a generous tax deduction. Ask ACOI how and for a confidential personalized financial illustration that will be tailored to your unique situation or needs.
Real Estate, Homes or Vacation Property
By donating a house or property you no longer need, you will receive a generous tax deduction based on its full market value. By keeping the right to live in your home for life or until you no longer need it, you can stay in it and receive a generous tax deduction. Ask ACOI to show you how this can work for you.
Life Insurance
Many people have insurance policies they no longer need. By making ACOI the owner and beneficiary, you will receive an immediate tax deduction and the joy of knowing that what once gave you and your family peace of mind will now help others. Ask ACOI how this can work for you.
Our staff and planned giving counsel are ready to provide confidential information on ways you can help yourself and your family, while making gifts that will go on to help ACOI and others. For more information or to schedule a consultation with our planned giving counsel, call Brian Donadio, FACOI, at 301-231-8877 or email him at bjd@ACOI.org with any questions you might have.
For more information on the various types of planned gifts, please contact Katie Allen (katie@acoi.org) to order copies of various gift planning pamphlets now available: Gifts of Securities; Your Will to Help; The Gift Annuity; Ideas for Retirement; A Special Beneficiary; Art of Gift Planning; When the Time Comes; Your IRA Legacy; Remarkable Unitrusts; Bequeath Your Values; Planning for Women.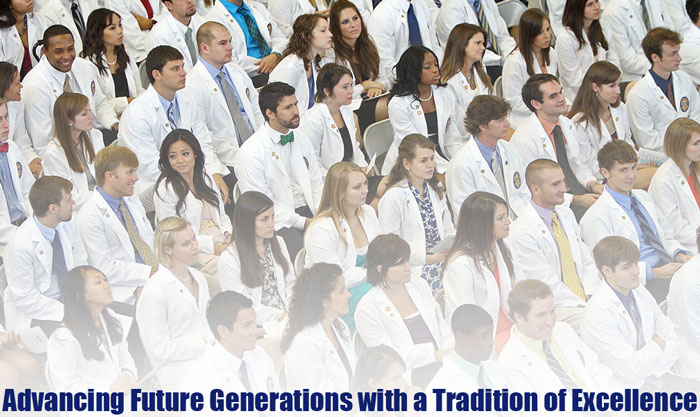 Evidence mounts daily that the national demand for internists is growing. There is a strong need for highly-qualified primary care internists, hospitalists, and subspecialists. ACOI answers this need by reaching out to students who are not fully aware of the career opportunities in our specialty.
ACOI is committed to the future of a distinctive osteopathic practice of internal medicine and to strengthening and expanding our very successful generational advancement programs so that future generations can carry on our osteopathic traditions and practices.
In order to continue and grow programs for students, residents, and fellows, financial support is needed for ACOI's Generational Advancement Fund. Contributions will be used for the following programs:
Visiting Professor Program to osteopathic college campuses to educate students about internal medicine and our subspecialties
Resident Textbook Program that provides textbooks for residents and students
Grants to Student Internal Medicine Clubs to attend ACOI's Annual Convention
Mentor Program that matches practicing physicians with students
Click here to make a gift online
---
Why I Choose to Give to the ACOI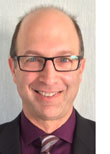 "I support the Generational Advancement Fund (GAF) because it reflects what is important to me – educating the next generation of osteopathic internists. Gifts to the GAF support textbook vouchers for students that attend the annual convention, provide funding to have more ACOI members participate in the Visiting Professor Program, and benefit students and residents. The Visiting Professor Program provides opportunities to promote the importance of the ACOI to potential new members." -
Keith A. Reich, DO, FACOI, FACR, RhMSUS
---

"I contribute to the ACOI because I want to give back. As for donating my speaker honoraria, it is because I so enjoy speaking and teaching that I don't see my honoraria as my compensation, but as another way to give back and help the ACOI do what it needs to do. I encourage ACOI members to get involved in the College because I think everyone can make a difference at the ACOI."
- Amita Vasoya, DO, FACOI
---
Our Visiting Professor Program in Action
ACOI sponsored 22 Visiting Professor lectures during the 2018-2019 academic year, thanks in part to contributions from ACOI members!
Our thanks to our Visiting Professors for making the time to speak and train medical students about internal osteopathic medicine. The students appreciate ACOI helping to arrange these sessions. PCOM's SOIMA President Jonathan Stewart says "Dr. Carron's presentation was engaging, educational, and entertaining. It was a real pleasure having her come and speak to us all."
Here are a few recent Visiting Professor sessions held: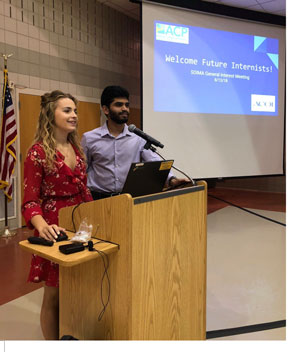 Oksana Vasylivna Mayovska and Sanath Shetty, 2nd Year medical students at Rowan University School of Osteopathic Medicine in Stratford, New Jersey who currently serve as the Co-Presidents of the Student Osteopathic Internal Medicine Club.
"First, we want to thank the ACOI staff for all their help in organizing our Visiting Professor sessions. It was terrific. We were able to promote our sessions so that we had great attendance. Last year, Dr. Good visited us and his session was wonderful, very interactive and gave us a realistic view of medicine in the future. He discussed the time commitment, financial burden and training involved if one were to pursue the various subspecialties. Additionally, since at this time in our medical education we are following a traditional track, it was interesting to have Dr. Good present a clinical case for us to discuss. It was very engaging for the students and I could tell they were excited by it. Dr. Holler did a Visiting Professor session more recently that focused on end of life matters which is her field of expertise."- Oksana Vasylivna Mayovska and Sanath Shetty, Co-Presidents of the Rowan SOIMC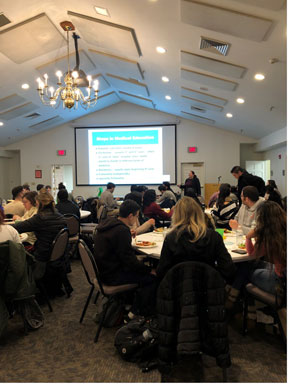 On March 4, 2019, ACOI President Annette T. Carron, DO, FACOI traveled to WVSOM as a visiting professor and delivered her lecture "How to Succeed on Rotations." What a great turnout!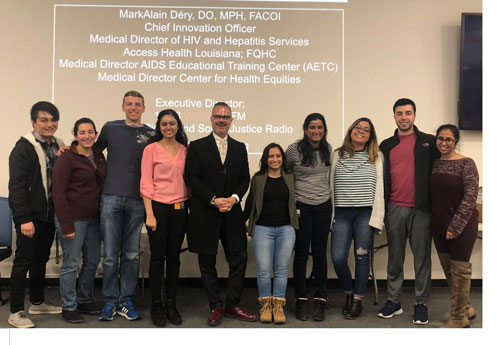 Pictured with Dr. Dery is Sebastian Geraci, Ann Jose, Zai Ganesh, Ooha Kambhampati, Kim Soultan, Daniel Francis and Sneha Chittabathini.
"Just wanted to thank ACOI again for arranging Dr. Dery to come speak with us! He gave us an awesome talk! All those who came out enjoyed his talk a lot and we would love to have him again next year as well!" - Ann Jose, NYIT SOIMA National Liaison
---
Your Gift to the Generational Advancement Fund Makes a Difference
ACOI is committed to the future of a distinctive osteopathic practice of internal medicine and to strengthening and expanding our very successful generational advancement programs so that future generations can carry on our osteopathic traditions and practices. This commitment requires financial support over and above ACOI dues so we can continue to make a difference in providing high quality care to patients.
---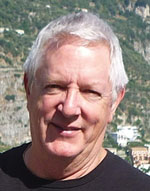 "My service to ACOI is my way of giving back to the profession. I wouldn't be where I am today without ACOI since it enabled me to follow paths not allowed in allopathic medicine. Over the years, I have had amazing opportunities to network with members of our profession who are experienced, approachable, and open to new ideas. My giving is another example of giving back. I choose to donate part of my speaker honorariums each year so that ACOI has additional funds to do what is needed." – Gerald W. Blackburn, DO, MACOI
Ways of Giving
There are a number of ways you can make a gift to the ACOI:
Click here to make a gift online.
Send a check to Katie Allen, ACOI, 11400 Rockville Pike, Suite 801, Rockville, MD 20852.
Add a contribution when renewing your annual dues.
Add a contribution when registering for the ACOI Annual Convention or other educational conferences.
For information on how to make a gift of stock, please contact Brian Donadio, Executive Director, at 301-231-8877 or via email at bjd@acoi.org.
Make a gift in honor or memory of a colleague, mentor, teacher, or someone who has been important to your career or personally. Be certain to include the complete name and address of the honoree or their next of kin so ACOI can inform them of your recognition. Click here.
Honor Roll of Donors (June 30, 2019)
The ACOI is most grateful to those members and others who contributed $100 or more in our last fiscal year. Donations are used to fund ACOI's plan for the future, to train and mentor osteopathic medical students and residents through the Visiting Professor Program, to offer vouchers in the Resident Textbook Program, and to provide financial assistance to student internal medicine clubs to attend the ACOI Convention. Contributions totaling $160,480 during our last fiscal year (July 1, 2018 – June 30, 2019) were received through dues renewal and meeting and convention registrations as well as through donations of speaker honorarium. (Please note: this list does not include hundreds of members who contributed less than $100.)
Eleonora Akker, DO
Mojgan Arashvand, DO
Karen Babos, DO
Damon Baker, DO, FACOI
Neeja Bakshi, DO, FACOI
Mark Baldwin, DO, FACOI
Lee Peter Bee, DO, FACOI
Herman Beebe, III, DO
Naiema Benson, DO
Kevin Berlin, DO, FACOI
Robert Biggs, DO, FACOI
Kimberly Birch, DO
Gerald Blackburn, DO, MACOI
Jack Bragg, DO, MACOI
Natasha Bray, DO, FACOI
Jonathan Bryan, DO, FACOI
Diane Brzezinski, DO, FACOI
Paul Bulow, DO, FACOI
Julie Burgos, DO, FACOI
Christian Cable, MD, MHPE
Robert Cain, DO, FACOI
Kenneth Calabrese, DO, MACOI
Steven Calkin, DO, FACOI
Annette Carron, DO, FACOI
Janet Cheek, DO, FACOI
Arthur Childs, DO, FACOI
Darwin Childs, DO
Helen-Valentine Chukwu, DO
Jason Clarity, DO
Kevin Clayton, DO
Michael Clearfield, DO, MACOI
James Clouse, DO, MACOI
Gerald Cocchiaro, DO, FACOI
Kevin Combs, DO, FACOI
Mark Condoluci, DO, FACOI
Timothy Conlon, DO, FACOI
Peter Correnti, Jr., DO, FACOI
John Cox, DO, MACOI
Margaret Davenport, DO, MACOI
Terry Day, II, DO
Michael Debs, MD
Erika DeGayner, DO, FACOI
MarkAlain Dery, DO, FACOI
Chaker Diab, DO, FACOI
Rodney Diehl, DO
Robert DiGiovanni, DO, FACOI
Stephen Dixon, DO
Kevin Dolehide, DO, FACOI
Brian Donadio, FACOI
Carol Duffy, DO, FACOI
Tammy Durham-Boring, DO, FACOI
Kevin Furey, DO, FACOI
Tara Eastin, DO




William Elliott, DO, FACOI
Thomas Essex, DO, FACOI
D. Bruce Faber, DO, FACOI
Fazal Faroqui, DO
Joseph Forte, DO
Vikranth Gongidi, DO, FACOI
Robert Good, DO,
Debora Goodrich, DO, FACOI
Kathleen Gordon, DO
Brittany Goss, DO, FACOI
Steven Grainer, DO, FACOI
Adam Brunbaum, DO, FACOI
Jeffrey Hananel, DO, FACOI
David Hitzeman, DO, MACOI
Leonard Hock, DO, MACOI
Stephen Hoey, DO
Thomas Hughes, DO
JJulianne Imseis-Losh, DO
Pran Iruvanti, DO
Scott Jacober, DO, FACOI
Albert Janke, III, DO, FACOI
Gregory Johnson, DO, FACOI
Robert Juhasz, DO, FACOI
Grace Kao, DO
Marc Kaprow, DO, FACOI
Michael Keller, DO, FACOI
Mark Klucka, DO
Janice Knebl, DO, MACOI
Frank Knechtl, DO
D. Charles Kowalewski, DO
Michael Krohn, DO
Irene Kuizon, DO
Athena Lan, DO
Nathan Landesman, DO, FACOI
Francis Lauro, DO, FACOI
Hollace Leppert, DO, FACOI
Judith Lightfoot, DO, FACOI
Eric Lubiner, DO, FACOI
Bryan Martin, DO, FACOI
Curtis McElroy, DO, FACOI
Timothy McNichol
Margaret McQuiston, DO, FACOI
Joshua Menefee, DO
C. Clark Milton, DO, FACOI
David Mohlman, DO, FACOI
Rizwan Moinuddin, DO
Toni Murphy, DO, FACOI
Jospeh Namey, Jr., DO, MACOI
Kevin Neenan, DO
Peter Nock, DO
Michelle Zetoony Nudell, DO, FACOI




Ignatius Ohamadike, DO
Eugene Oliveri, DO, MACOI
Susan O'Neal, DO, FACOI
Michael Opipari, DO, MACOI
Robert O'Sullivan, Jr., DO, FACOI
Anthony Ottaviani, DO, MACOI
Matthew Owen, DO
Jeffrey Packer, DO, FACOI
Herbert Pasternak, DO, FACOI
Harry Pierce, DO, FACOI
Alida Podrumar, MD
Michael Raad, DO, FACOI
Keith Reich, DO, FACOI
Jennifer Reimer, DO
Donna Romito, DO, FACOI
Laura Rosch, DO, FACOI
Michael Sachs, DO
Christine Samsa, DO, FACOI
George Sawabini, DO, FACOI
Frederick Schaller, DO, MACOI
Roger Schenone, DO, FACOI
Thomas Schneider, DO, FACOI
Lucyann Sciandra, DO, FACOI
Daniel Sheps, DO
Richard Simons, DO
Brenda Snyder, DO
Samuel Snyder, DO, FACOI
Scott Spradlin, DO, FACOI
Apoorva Srivastava, DO
Susan Stacy, FACOI
Douglas Stahura, DO
David Stainbrook, Jr., DO, FACOI
Vivian Iaderosa Starr, D
Robert Stomel, DO, MACOI
Edward Strauss, DO, FACOI
David Susser, DO, MACOI
Mia Taormina, DO, FACOI
Elishia Thompson, DO, FACOI
Jose Torres, DO, FACOI
Troy Tyner, DO, FACOI
Uohn Uslick, DO, MACOI
Wilfred VanderRoest, DO, FACOI
Amita Vasoya, DO, FACOI
Mary Jo Voelpel, DO, FACOI
Brian Walsh, DO, FACOI
Ronald Walsh, DO, MACOI
Alan Wan, DO, FACOI
Ned Warner, DO
Marvin Wells, DO, FACOI
Stephanie Whisiker-Lewis, DO, FACOI
Gerald Williams, DO, FACOI
Randal Worth, DO, FACOI