Coding Corner
The information provided here applies to Medicare coding. Be sure to check with your Medicare Administrative Contractor (MAC) for additional information and clarification on these and other items. You should also contact your local insurance carriers to determine if private insurers follow Medicare's lead on all coding matters.
The Importance of Past Family History
This month, we will look at past, family and social history as we work our way through the documentation elements of an evaluation and management (E&M) visit.  As I said last month, one must remember that the extent of history of present illness (HPI), review of systems (ROS) and past, family and social history (PFSH) that is obtained and documented is dependent upon clinical judgement and the nature of the presenting problem(s).
The history is unique from the Exam and Medical Decision Making (MDM) component of an E&M visit. For a complete history, a new patient requires information from all three of the history areas (HPI, ROS and PFSH).  The same circumstance for an established patient requires information only from two areas.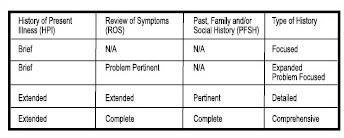 As you can see from the chart from the 1995 Guidelines, two of the types of history for an E&M service (problem focused and expanded problem focused) do not need any PFSH.  That is the technical side of PFSH, but what about the practical side?
Looking at the behaviors encompassed in social history, I see additional challenges.  When asking a patient about smoking history, it is not just about current smoking habits, but whether they ever smoked.  It is not just about asking if they have smoked cigarettes, but whether they smoked other products as well.  In some instances, this may now include other legal items such as marijuana.  In the world of electronic medical records (EMR), there is a checkbox for "smoking," but does it cover all the questions that this section encompasses?  Where does vaping get a check mark in the electronic record?  I am frequently critical of EMR systems and their limitations for this reason.  In this one section, several pieces of valuable information are reduced to a single check mark.  Does the next person looking at the lone checkmark by "smoking negative" assume all the above questions were asked and the answers were no to all of them?  Or, was it no to the ones that were asked?  Was the simple question of "do you smoke" the only one asked and is that what the checkbox showing a negative answer represents? Good questions to which there are no clear answers.
Both the 1995 and 1997 E&M Guidelines state that family history is: "A review of medical events in the patient's family, including diseases which may be hereditary or place the patient at risk."  Statements of "non-contributory" and "unremarkable" do not indicate what questions were asked of the patient, or if there were there any positive responses that the author was discounting.  It is for this reason that these two statements are not acceptable documentation according to the Centers for Medicare and Medicaid Services (CMS).  Again, write what the patient is asked and then document specific, valid information about the family history.   If either the chief complaint or ROS elicits a positive finding, it should be one of the topics of discussion about family members included in the PFSH.
 
I do appreciate the frustration physicians feel about obtaining a family history on a 90-year-old patient.  Frequently, the information gleaned from the conversation is not as specific as one might want because of the memory of the patient, or the lack of detailed medical information that was available 50 or 60 years ago. That does not mean the questions should not be asked and answers documented in the family history section.  Depending on the completeness of the rest of the visit, not having a family history documented could cause the note to be down coded from a new patient to an established patient. This would result in a significant loss of reimbursement.